April 13th, 2014

37.media.tumblr.com
Donald Rumsfeld & Saddam Hussein in happier times…
Just went to see the Errol Morris documentary The Unknown Known, an interview with Donald Rumsfeld. Before the movie, my girlfriend and I wandered onto the Santa Monica mall and saw the novel sight of a Ukrainian cultural booth. First time I have ever seen such a thing. I wonder of the State Department is behind some kind of government campaign to use that little bit of smoke and mirrors to push what seems to be a fairly transparent power grab to use the new gas and oil surplus to steal markets away from the Russians in Europe, long range granted, but a national security scare could help give cover to the President signing the Pipeline bill as a national security measure. Why else would such an intense war drumbeat be induced on such a distant and murky affair?

www.cjournal.info
"The Western World Screams for War… Who's Standing for Peace? » Barbara-Marie Drezhlo" some pro-Russian Propaganda.
But on the the Donald, cocky bastard that Rumsfeld, someone my girlfriend, who was in high school during the Iraq war, thought to be charming. Charming obfuscation perhaps, Rumsfeld came off as an ambitious schemer and dreamer, so misunderstood, he welled up with tears a the thought that a dieing soldier returning from Iraq, a war he Rumsfeld had bungled badly, came back from the dead, a Lazarus who, by association Rummy himself seemed to be hinting was also his historical fate, to be raised up from the depths of his own failure, as the Secretary of Defense responsible for declaring enemy combatants to not be POW's, for the mishandling of the Iraq insurgency and the eventual end of his tenure as Secretary at the insistence of military professionals tired of Rumsfeld's experimentation, and incessant questioning of the meaning of the nature of reality, constantly riding on his egocentric desire to know the unknown, to imagine the unimagined and to seek the dictionary definition of all in an ongoing quest for his ultimate conquest of fate. History is in Rumsfeld's world to be mastered, by imagineering, to borrow a Disney phrase that seems quite in line with the Rumsfeld imagined world.

upload.wikimedia.org
Ford appointed Rumsfeld White House Chief of Staff, where he served from 1974 to 1975.
Consummate political operator, he managed to evade the fallout from Nixon's failed regime, sidestep the defeat of Ford, put a good face on Reagan passing him over for Vice President when his nemesis, George Bush senior took the position and managed to parlay the coattail effect to become President. Rumsfeld managed to become special envoy to the Middle East after the Lebanon bombing in 1983 of the US Marine base, part of a peacekeeping force after the Israeli invasion of southern Lebanon. Rumsfeld gave some good advice then, he advised that the US stay out of Middle Eastern affairs until called upon, no more volunteering for peace keeping forces and such. He ignored his own advice when he and Vice President Dick Cheney, advised President Bush to go after Saddam Hussein despite his knowing that Hussein had nothing to do with 9/11,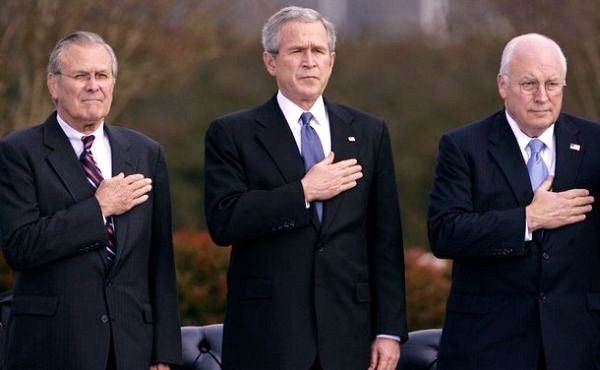 witnessiraq.com
Secretary of Defense Rumsfeld, President Bush the second and Vice President Dick Cheney
Rumsfeld came off as a full of himself and someone who was attempting to use Morris's documentary as his soapbox, but alas for Rumsfeld, Morris, simply let him go on and we end up with an example of another man who would be king.

graphics8.nytimes.com
Cheshire Rumsfeld Through The Morris Looking Glass.