March 5th, 2014

historyofgeology.fieldofscience.com
Imaginary(?) View of Tambora
William Turner Flint Castle
The World Eruption in Mary Shelly's Frankenstein
By Gary Crethers
Reading Frankenstein, one of the first impressions is that of man in nature, man engaged in endeavors to discover the secrets of the natural world, and the stormy nature of the times. The storms that frequently erupt and engage the reader are no mere literary trope. The period of 1816 and 1817 when Mary Shelly wrote her tale of the modern Prometheus, is a time of great climatic turbulence that had ramifications all around the globe. For not only was this a time of man's effort to conquer nature, but it was a time when nature struck out at man most effectively, if unintentionally. Some of the ambivalence Shelly shows towards science can be directly attributed to the experience of the world as she wrote. Modernity, in the time of Mary Shelly, had not yet become the triumphalist march of progress that would blind man to nature's reality, as a power beyond control. Mary Shelly, as she writes, would seem to be very much influenced by the forces beyond the rational in nature and man.
More than one significant event had occurred in 1815, New Orleans perhaps, Waterloo without a doubt and, "the eruption of the Tambora volcano on the island of Soembawa in Indonesia on April 15th 1815… The mountain elevation dropped from 14,000 feet to 9000 feet, killed close to 10,000 people on the island and another 80,000 people would eventually die from starvation and diseases related to the eruption. Tambora was one of the largest recorded eruptions with estimates of 1.7 million tons of dust put into the air equaling 6 million atomic bombs" (Foster).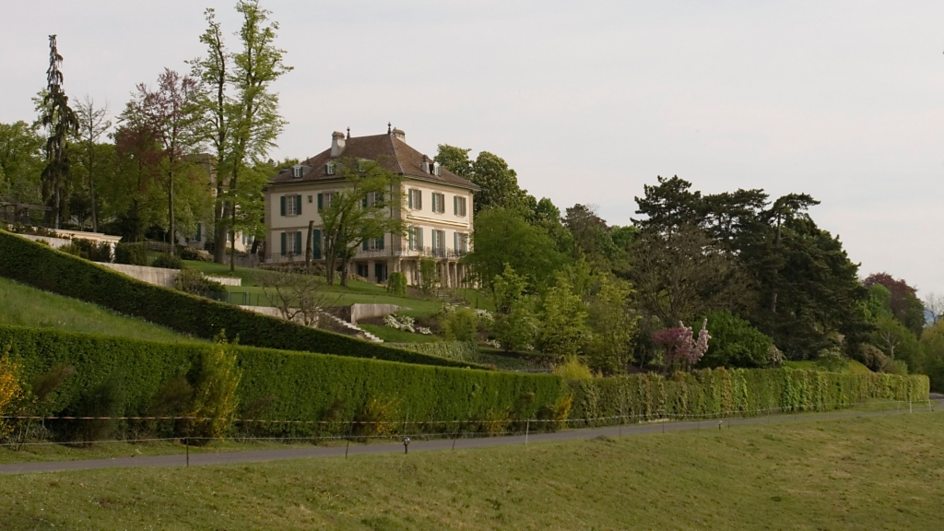 http://www.bbc.co.uk
Villa diodati where Byron and the Shelly's resided
This event overshadowed the entire period in which Frankenstein was composed, adding a gloomy and romantic aura to the days of the middling classes, such as the Shelly's. Mary Shelly, recently having spent a year or more in Scotland, was no stranger to foul weather as she says in the author's introduction to Frankenstein, "I made occasional visits to more picturesque parts, but my habitual residence was on the blank and dreary northern shores of the Tay, … Blank and dreary on retrospection I call them; they were not so to me then. They were the aerie of freedom, and the pleasant region where unheeded I could commune with the creatures of my fancy" (Shelly, xxi-xxii). For "the dashing young sybarite" Byron, the weather was likely a distraction (Perrottet).

www2.macleans.ca
For others it was an opportunity to go upon a grand adventure, and as most of the temperate climates had been explored, discovered and were in the process of being exploited, adventures were to be found in the extreme climes, as young Walton writes in breathless enthusiasm "I feel a cold northern breeze play upon my cheeks… Inspirited by this wind of promise… I try in vain to be persuaded that the pole is the seat of frost and desolation" (Shelly, 1). There was real excitement in the period for conquering the poles, as Jessica Richard writes, "In articles in the Quarterly Review, beginning in the October 1816 issue (published Feb. 1817; Shelley notes reading the Quarterly on May 29 & 30 1817) and in a book-length study, Chronological History of Voyages into the Arctic Region (1818), Barrow worked to secure governmental and popular support for British polar exploration" (Richard, 297).
But to claim that this hubristic excitement for exploration and conquest, for Barrow was interested in finding the northwest passage, just as Walton says, "you cannot contest the inestimable benefit which I shall confer on all mankind,… by discovering a passage near the pole" (Shelly, 2). This advancement, as young Frankenstein says "when I considered the improvement which every day takes place in science and mechanics, I was encouraged… of future success" (38). This is the progress machine in action, as Charles Van Doren says in The Idea of Progress, speaking of stages of man's conception of progress, referring to Louis Mumford's system, "that by which Old World Man become 'New World Man,' was brought about by the scientific and technological 'revolutions' of the last several centuries" (Van Doren, 54). This machinelike inevitability "is perhaps another way of saying what Godwin says – namely, that man is capable of achieving everything that he is capable of conceiving" (55). This is the view that Mary Shelly is critiquing. In that critique is a powerful dose of mother nature.
Discussing the effects of the power of nature, specifically coming back to the effects of the 1815 eruption, Gillen D'Arcy Wood writes, in "1816, The Year without a Summer," of some Mary Shelly's correspondence:
In a letter to her half-sister Fanny Imlay, written on her arrival in Geneva, Mary describes—in hair-raising language that would soon find its way into Frankenstein—their ascent of the Alps "amidst a violent storm of wind and rain" (Letters 1:17)…. Mary's famous second letter to Fanny is one of the most vivid documents we have of the crazed volcanic weather during the summer of 1816: "An almost perpetual rain confines us principally to the house," Mary wrote on the first of June from the shores of Lake Geneva. "One night we enjoyed a finer storm than I had ever before beheld. The lake was lit up—the pines on Jura made visible, and all the scene illuminated for an instant, when a pitchy blackness succeeded, and the thunder came in frightful bursts over our heads amid the blackness' (Letters 1:20)" (qtd. in Wood, 3).

www.rebecca-writes.com
This scene is reproduced almost verbatim in the text of Frankenstein, "I quitted my seat and walked on, although the darkness and storm increased every minute and the thunder burst with a terrific crash over my head" (Shelly 59). Moving into the plot, Victor Frankenstein has just arrived outside the gates of Geneva, which, closed for the night will not allow him admittance. He decides to go seek the site where his young brother William has been murdered and in a romantic moment of what seems more a reflection of ego than concern "While I watched the tempest, so beautiful yet terrific, I wandered on with a hasty step. This noble war in the sky elevated my spirits; I clasped my hands and exclaimed aloud, 'William, dear angel! This is thy funeral, thy dirge!'" (59). A moment of gothic "gloom a figure which stole from behind a clump of trees near me… A flash of lightning illuminated the object… it was the wretch, the filthy demon to whom I had given life" (59). This scene illuminates many of the elements that made the year 1816 so momentous in its own right. Stormy weather, a wandering man kept out of a gated city and a dangerous monster in the shadows. Not only is this high melodrama, but it is symptomatic of that time and importantly shows reality in the physical world introducing itself and shaping the contra vision of progress that Mary Shelly so effectively describes.
Shelley's waking dream vision which inspired her to write of "the pale student of unhallowed arts, [h]e sleeps; but he is awakened; he opens his eyes; behold the horrid thing stands at his bedside, opening his curtains and looking on him with yellow, watery, but speculative eyes' (xxv). Wood notes, "The description is reminiscent of numerous impressions of European beggars in this period. One English tourist, travelling from Rome to Naples in 1817, remarked on 'the livid aspect of the miserable inhabitants of this region.' When asked how they lived, these 'animated spectres' replied simply: 'We die' (Matthews 192-3)" (Wood, 4).

www.geographictravels.com
The conditions were extremely harsh all over Europe, as Wood continues to describe:
[T]he scale of human suffering in Switzerland was among the worst in Europe. When the crops failed, thousands died of starvation during continental Europe's last ever famine, while the numbers of indigent homeless ran into the hundreds of thousands. Mortality in 1817 was over 50% higher than its already elevated rate in the war year 1815. Everywhere, desperate villagers resorted to a pitiful famine diet of 'the most loathsome and unnatural foods—carcasses of dead animals, cattle fodder, leaves of nettles, swine food. . . .' (Post 128)" (Wood, 3).

oldstonehousemuseum.org
In the light of these conditions it becomes perhaps understandable why the city of Geneva would shut its gates. People would be hard pressed to provide for themselves as the monster of Frankenstein describes for family that he had adopted as his teachers, "They often, I believe, suffered the pangs of hunger very poignantly, especially the two younger cottagers, for several times they placed food before the old man when they reserved none for themselves" (Shelly 92). Yet the monster has sympathy, and instead of stealing food as he had been, "I abstained and satisfied myself with berries, nuts, and roots" and then sought to help them "during the night I often … brought home firing [wood] sufficient for the consumption of several days" (92
The reaction of the monster is very human, humane. It shows greatness of soul, not of the sin of Adam, but of the tabula rasa, the unwritten book. Akin perhaps to Rousseau himself, who finds himself locked out of Geneva, and wanders like one of these vagabond poor, but not to doom, but "wandered on foot to Annecy in Savoy – where he was taken in by Mme. de Warens, Rousseau's protector and then [1733-1740] lover" (Riley, 3). Frankenstein instead of finding a port in the storm, becomes part of the process of destroying a poor servant girl Justine, who when falsely accused of murdering Victor's brother, he remains silent and allows her to die while experiencing great pangs of guilt, but he rationalizes, "a thousand times rather would I have confessed myself guilty of the crime ascribed to Justine, but I was absent when it was committed, and such a declaration would have been considered as the ravings of a madman" (Shelly 64).

breakfastintheruins.blogspot.com
Justine
How ironic it would be to connect the fate of this poor girl with that of the French transgressive writer De Sade's own Justine, who in Justine, ou les malheurs de la vertu, published in 1792, was victim of horrendous treatment as a reward for her virtue. According to Anne Williams "We do know that Byron owned a copy of Justine in 1816, just before he left England… Mary Shelley, then, may have heard about more than Galvanism while listening to Shelley and Byron's conversations that fateful summer" (Williams, 13).
This lack of compassion on the part of the upper classes, which is especially seen in the tragic story of the servant girl, reflects poorly on the levels of empathy regarding the fate of the lower classes by the relatively well to do circles from which the Shelly's and their even more affluent friend Byron who "crossed the English Channel to France, visited the battlefield of Waterloo in Belgium, then traveled south along the Rhine in a reproduction of Napoleon's coach, accompanied by a squadron of servants, a peacock, a monkey, and a dog" (Perrottet), were escaping. Yet they were seemingly above the fray of the travails of the average people. They weep, as Elisabeth, who, in what seems a moment of self-pity rather than revolutionary zeal, '"Alas!' said she. 'How shall I ever again believe in human goodness?' (68). As a middle class person, Elisabeth is indignant at Justine for not living up to her idealized version of reality, all her weeping leads to naught and she can go home consoled that Justine has left her troubles behind. Troubles cause by Frankenstein, creator of the monster, which, in this case in the real world was a time of troubles, when good citizens locked their gates and let young innocents die, as examples, for the rest of the restless and hungry lot of humanity.
The poem "Darkness" by Byron, written that summer might indicate something of the effect of that weather:
I had a dream, which was not all a dream.
The bright sun was extinguish'd, and the stars
Did wander darkling in the eternal space,
Rayless, and pathless, and the icy earth
Swung blind and blackening in the moonless air;
Morn came and went—and came, and brought no day, (1-6)
Traveling earlier that year to Lake Geneva, Byron could not have helped but to notice the effects of the combined weather and war on the populace, just as the traveler Wood notes above mentions. Again from "Darkness":
All earth was but one thought—and that was death
Immediate and inglorious; and the pang
Of famine fed upon all entrails—men
Died, and their bones were tombless as their flesh; (42-45)

poetry.rapgenius.com
Famine
The monster that is stalking the earth, the opposite of the dream of freedom, now conquered, famine, disease and death rule the land. Sensitive souls might weep, and eventually a new man would have to arise from this charnel house. Man and nature have conspired to turn Frankenstein's monster, the mutated dream of freedom, revolution betrayed by the man on Elba, buried by the Metternich's of the world, transformed into a howling madman and mankind reaps the whirlwind. The Prometheus has been released and Shelly was one of the first to see dire consequences in the hubris of man both in his indifference to suffering and to the power of natural forces that then, as now he pretends to master (a bit of a polemic, but it is late).
Works Cited
Byron, Lord (George Gordon). "Darkness." Poetry Foundation. Chicago: Poetry Foundation. 2014. Web. 8 Feb. 2014.
Foster, Lee. "1816 - The Year Without Summer" Climate Corner. Maine-ly Weather. A newsletter publication from The National Weather Service in Caribou, Maine. Web. 8 Feb. 2014.
Perrottet, Tony. "Summer of Love: The Romantics at Lake Geneva." Biblion: Frankenstein The Afterlife of Shelley's Circle. Courtesy of The New York Public Library. www.nypl.org. Web. 8 Feb. 2014.
Richard, Jessica. "'A Paradise of My Own Creation': Frankenstein and the Improbable Romance of Polar Exploration." Nineteenth-Century Contexts, 25: 4. (2003). 295–314. Web. 8 Feb. 2014.
Riley, Patrick. "Introduction: Life and Works of Jean-Jacques Rousseau." The Cambridge Companion to Rousseau. Ed. Patrick Riley. Cambridge, UK: Cambridge U. Press. 2001. Print.
Shelly, Mary. Frankenstein. Forward, Walter James Miller, Afterword, Harold Bloom. New York: Signet Classic.2000. Paperback.
Van Doren, Charles. The Idea of Progress, New York: Frederick A. Prager, Pub. 1967. Print.
Williams, Anne. "'Mummy, possest': Sadism and Sensibility in Shelley's Frankenstein." Romantic Circles. University of Maryland. July 2003. Web. 8 Feb. 2014.
Wood, Gillen D'Arcy. "1816, The Year without a Summer." BRANCH: Britain, Representation and Nineteenth-Century History. Ed. Dino Franco Felluga. Extension of Romanticism and Victorianism on the Net. Web. 8 Feb. 2014.