Thursday, December 19th, 2013
Cartoon of Byron's dedication of Don Juan to Robert Southey,
first two stanzas of the "Dedication" are quoted below:
Bob Southey! You're a poet, poet laureate,
And representative of all the race.
Although 'tis true that you turned out a Tory at
Last, yours has lately been a common case.
And now my epic renegade, what are ye at
With all the lakers, in and out of place?
A nest of tuneful persons, to my eye
Like four and twenty blackbirds in a pye,
Bob Southey! You're a poet, poet laureate,
And representative of all the race.
Although 'tis true that you turned out a Tory at
Last, yours has lately been a common case.
And now my epic renegade, what are ye at
With all the lakers, in and out of place?
A nest of tuneful persons, to my eye
Like four and twenty blackbirds in a pye,

Which pye being opened they began to sing'
(This old song and new simile holds good),
'A dainty dish to set before the King'
Or Regent, who admires such kind of food.
And Coleridge too has lately taken wing,
But like a hawk encumbered with his hood,
Explaining metaphysics to the nation.
I wish he would explain his explanation.
"Byron's Critique of the "Lake Poets" Reflected in Don Juan"
By Gary Crethers
Reading Canto III of Don Juan, I noticed that Byron became quite vitriolic regarding Southey, Wordsworth, and Coleridge, those known as the Lake poets. I had just returned to reading the epic after leaving off for a semester of tedium in Honors English Three, the English of logical disquisition, more like pedantic resolute adherence to formulaic regurgitation of Rogerian and Toulmin argumentative style… how that Canadian and spare the rod therapist became so boring, is a tribute to the teach to test and core curriculum approach of the uh, modern education in California, but I like my subject, digress.
Byron and Southey
Byron in his modern Greek oration delves into then current British literary affairs in the third Canto, published after the first and second which came out in July of 1819, written in the fall of that year but not published until 1821, Byron was smarting from a rumored tale Southey was spreading about himself, and Shelly having formed "A league of incest" with Mary Godwin and Claire Claremont in Geneva in 1817 (qted in Joukovsky 499). This bit of personal invective led Byron to write his famous dedication to Southey, poet laureate of England, who said of Don Juan that it was "a foul blot on the literature on his country, an act of high treason on English Poetry" (500). Byron's own statement was that "I have given it to Master Southey, and he shall have more before I have done with him" (499). Fighting words which when I read this, I became curious to discover the cause:
All are not moralists, like Southey, when
He prated to the world of "Pantisocracy;"
Or Wordsworth unexcised, unhired, who then
Season'ed his pedlar poems with democracy;
Or Colderidge, long before his flighty pen
Let to the Morning Post its aristocracy;
When he and Southey, following the same path,
Espoused to partners (milliners of Bath). (Don Juan III. XCIII)
The Friend of Humanity and the Knife-Grinder,—Scene. The borough, in Imitation of Mr. Southey's Sapphics,—Vide. Anti-Jacobin, p. 15. George Tierney and a knife-grinder pushing his wheelbarrow in front of an ale-house. 1 print : engraving, color. London : pubd. by H. Humphrey, 1797
Seething in sarcasm, words like "prated" next to "Pantisocracy," which having dug up even more of my curiosity finding this from the Life of Samuel Taylor Coleridge by James Dykes Campbell:
It was during the visit to Oxford that Pantisocracy was hatched. Southey gave his recollections of the matter to Cottle in a letter dated March 5, 1836: -
In the summer of 1794 S. T. Coleridge and Hucks came to 'Oxford on their way into Wales for a pedestrian tour. Then Allen introduced them to me, and the scheme was talked of, but not by any means determined on. It was talked into shape by Burnett and myself, when … he and I proceeding on foot to Bath. After some weeks, S. T. C, returning from his tour …, Then it was that we resolved upon going to America, and S. T. C. and I walked into Somersetshire … He made his engagement with Miss [Sarah] Fricker on our return from this journey at my mother's house in Bath, not a little to my astonishment… I had previously been engaged to my poor Edith [Fricker]. . , . He remained at Bristol till the close of the vacation [?] - several weeks. During that time it was that we talked of America. The funds were to be what each could raise - S. T. C. by the "Specimens of the Modern Latin Poets," for which he had printed proposals, and obtained a respectable list of Cambridge subscribers before I knew him; I, by "Joan of Arc," and what else I might publish. I had no . . . other expectation. We hoped to find companions with money. (Campbell 31).
Area of Eastern Pennsylvania where Priestly lived and Pantisocracy was to be established.
An article on Joseph Priestly and his move to America makes this connection to the poets:
"Thomas Cooper, a friend of Joseph Priestley's, published a pamphlet in Britain titled "Some Information Respecting America," meant to encourage others to settle in Pennsylvania and offering instructions on how to do so… influenced by Cooper's, poets Samuel Taylor Coleridge and [Robert Southey], full of idealism and angered at Priestley's treatment in Birmingham, intended to emigrate to America and establish a utopian community" (wikipedia Joseph_Priestley_House).

idrinkmyteasweet.com
Alexander Pope (a poet Byron admired) designed park near Bath, England, close to Bristol, hiking territory of Coleridge and company.
Byron's joke about hoofing it to Bath, and the reference perhaps to Chaucer, it becomes self-evident that he knew the past of the Lake Poets. The milliners, Coleridge and Southey both became espoused to, the Fricker sisters, who themselves having fallen from a prosperous childhood into some poverty by the spendthrift ways of their father, "were all skilled needlewomen and had no difficulty earning their livings from their needles. But it was a profession with a dubious reputation. It was Byron who made the sarcastic remark about Coleridge and Southey marrying `two milliners from Bath', gossip repeated by Thomas De Quincey, who added, `Everybody knows what is meant to be conveyed in that expression'" (Jones). As Jones points out in her book A Passionate Sisterhood, describing the theory that seems to have been the main subject of discourse among the Fricker's and their future beau's in 1794 Bristol, Jones states:
Southey and Coleridge were disillusioned by university life, unsuited to traditional careers by virtue of their beliefs, and perplexed by the problem of maintaining themselves. From their `metaphysical' and philosophical discussions, Pantisocracy was born. The word was created by Coleridge from the Greek pan-socratia which means an all-governing society. At its heart was the notion of a community of self-governing equals. There was to be no private ownership of land, which was regarded as a common heritage belonging to everyone. Man and nature would live in harmony. Even animals were to be sisters and brothers `in the Fraternity of universal Nature'. Children had to be removed from the corruptions and prejudices of modern society and brought up as `children of Nature'. It was to be a totally democratic society, in harmony with nature; a new beginning (Jones).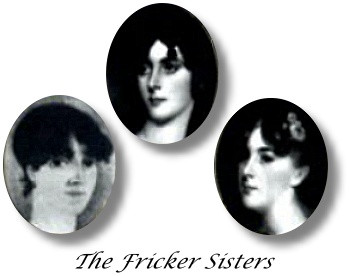 Apparently ready to go off to America, with dreams of creating a model society, with a band of followers and although poor, these youth has in its enthusiasm the ability to ignore the petty details of financing or hoped to make do with income from their writing as indicated in this letter of Southey recorded in Campbell:
Coleridge (wrote Southey to his midshipman brother Tom) was with us nearly five weeks [read four] and made good use of his time. We preached Pantisocracy and Aspheterism everywhere. These, Tom, are two new words, the first signifying the equal government of all, and the other the generalisation of individual property; words well understood in the city of Bristol. . . . The thoughts of the day, and the visions of the night, all centre in America. Time lags heavily along till March…. In March we depart for America, Lovell, his wife [nee Fricker], brother and, two of his sisters; all the Frickers ; my mother, Miss Peggy, and brothers ; Heath the apothecary, etc. ; G. Burnett, S. T. Coleridge ; Robert Allen, and Robert Southey. . . . "We shall be on the bank of a navigable river, and appoint you admiral of the cock-boat (qted. In Campbell 35).

hugesponge.blogspot.com
Young Samuel Taylor Coleridge
Below is Coleridge's poem from 1794:
"Pantisocracy"

No more my visionary soul shall dwell
On joys that were; no more endure to weigh
The shame and anguish of the evil day,
Wisely forgetful! O'er the ocean swell
Sublime of Hope, I seek the cottag'd dell
Where Virtue calm with careless step may stray,
And dancing to the moonlight roundelay,
The wizard Passions weave an holy spell.
Eyes that have ach'd with Sorrow! Ye shall weep
Tears of doubt-mingled joy, like theirs who start
From Precipices of distemper'd sleep,
On which the fierce-eyed Fiends their revels keep,
And see the rising Sun, and feel it dart
New rays of pleasance trembling to the heart. (Coleridge)

http://guides.lib.uh.edu
Storming of Bastille.
This was the time of the French Revolution. It was dangerous for young men to be too strong in their advocacy of radical change. The initial enthusiasm for the revolution, as emphasized in Tom Paine's Rights of Man, was by the mid-nineties subject to the reaction of the British "Church and King" crowd Tories whose leader, one John Reeves, called Coleridge a spy for the French, and harassed advocates of the republican position with their "Association for Preserving Liberty and Property Against Republicans and Levelers" (Gilmour 400). Paine, whose book had sold some 200,000 copies by 1793, was burned in effigy, his printers forced to escape to America or were imprisoned, and Paine himself, warned by printer and poet William Blake that the government was bringing up charges of seditious libel against him, Paine fled England in 1792 for revolutionary France (399, 400). Thus were given another reason for the desire to relocate to America on the part of Southey and Coleridge. As Coleridge himself states upon the revocation of Habeus Corpus and the institutionalization of the concept of constructive treason, and the outlawing of assemblies of over fifty in 1795, that he was "all too delicate for use" to participate in the resistance to the legislation but said publicly that the bills were "conceived and laid in the dunghill of despotism" (411).

britishreactionstotherevolution.files.wordpress.com
Cruikshank - the radicals arms, British view of French Revolution
Back to Byron's assault, he refers to Wordsworth's "pedlar poems with democracy" and in the next lines Coleridge's association with the Morning Post to which he contributed from 1797 to 1802. Apparently there were quite a few poems from the period submitted to the publication due to Coleridge's closeness to Wordsworth at the time and perhaps due to a pressing need to meet his contractual obligations to produce poems for the Post, he resorted to using Wordsworth's material along with his own (Landon 392, Smyser 420). This could be a crack at the materialistic venture into crass journals on the part of Coleridge and Wordsworth by Byron, Coleridge himself refers to himself as a "hired paragraph scribbler" (Glickfield 681).

theepochtimes.com
The Pedlar
"The Pedlar" by Wordsworth, was considered to be something of a problematic protagonist for such lofty poetry as Bailey writes in "'Dangerous and Suspicious Trades': Wordsworth's Pedlar and the Board of Police Revenue," comparing Goethe's Wanderer and the pedlar "When Wordsworth's Excursion was published, critics objected to the Wanderer's social status, pointing out, in Hazlitt's words, that 'we go along with him, while he is the subject of his own narrative, but we take leave of him when he makes pedlars and plough-men his heroes and the interpreters of his sentiments'" (qted. in Bailey 244). This then is some grounds for Byron's somewhat derogatory comment on Wordsworth's democratic values expressed in the section of his larger work the Excursion, called "The Pedlar." But more to point Wordsworth had been something of a Godwinian Radical. Nicholas Roe in Wordsworth and Coleridge: the radical years, notes that in 1795 Wordsworth was drawn into the same popular reform movement as was Coleridge and Southey, and in his relationship with Coleridge in particular had a "direct bearing on Wordsworth's subsequent development from a Godwinian radical to poet" (Roe 10, 194). Byron is thus reminding Wordsworth of his earlier democratic values.

wikimedia.org
Original American Printing of Mary Wollstonecraft's book
William Godwin, English proto-Anarchist and his wife Mary Wollstonecraft proto-feminist, both wrote influential political statements that were read by the Lake poets in the 1790's, including An Enquiry Concerning the Principles of Political Justice and Its Influence on General Virtue and Happiness by William Goodwin written while the French Revolution was transforming France and in England his work was received as sedition. His wife, Mary Wollstonecraft, no less radical wrote A Vindication of the Rights of Woman: with Strictures on Political and Moral Subjects, and was read by the Fricker sisters as well as the Lake poets themselves (Jones). Byron thus as a personal friend of the Shelly's, Mary Shelly being Godwin and Wollstonecraft's daughter, found it unconscionable that Southey would, in his later years, spread gossip about those who in his own youth he had admired and agreed with.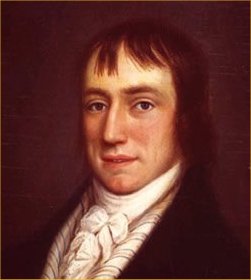 oldschooltours.net.
Young Wordsworth
Wordsworth himself in a letter of 1838, when concerned about his reputation as a possible paid writer of verse for Daniel Stewart's Morning Post, refers to the conflict between Southey and Byron, writing of "one article which I was induced to publish in a London newspaper, when Southey and Byron were at war" (qted. in Joukovsky 496). This may have been a residual attempt to clean up his past as he was now an important and relatively conservative figure in British society. Byron, now dead and gone had in his few pithy lines indicated a certain hypocrisy on the part of the Lake Poets, who in their youths had shown a much more radical aspect than subsequently as they gained respectable office in their older ages. Byron in contrast, reviled for his dissolute nature, left England under something of a shadow and cast his fortunes writing his barbed satirical anti-epic and eventually found a somewhat less than romantic death from disease while preparing to aid in the liberation of Greece from the Turkish yolk.
Byron meeting Greek Revolutionaries on Corfu
Works Cited
Bailey, Quentin. "'Dangerous and Suspicious Trades': Wordsworth's Pedlar and the Board of Police Revenue." Romanticism. 13. 3. (2007). 244-256. Project Muse. Web. 19 Dec. 2013.
Byron, George Gordon. Don Juan. New York: Modern Library. 1949. Print.
Campbell, James Dykes. Samuel Taylor Coleridge A Narrative of Events of his Life. London: Macmillan and Co.1894. Internet Archive. California Digital Library. Open Library. Web. 16 Dec. 2013.
Coleridge, Samuel Taylor. "Pantisocracy." readbookonline.net. Web. 19 Dec. 2013.
Gilmour, Ian. Riot, Risings and Revolution Governance and Violence in Eighteenth Century England. London: Plimco. 1993. Print.
Glickfield, Charlotte Woods. "Coleridge's Prose Contributions to the Morning Post." PMLA. 69. 3. (1954). 681-685. Jstor.com. Web. 19 Dec. 2013.
Godwin, William. An Enquiry Concerning the Principles of Political Justice and Its Influence on General Virtue and Happiness. 4th ed. London: J.Watson. 1842. dwardmac.pitzer.edu. Web. 19 Dec. 2013.
Jones, Kathleen. A Passionate Sisterhood: the Sisters, Wives and Daughters of the Lake Poets. New York: St. Martin's Press. 2000. nyt.com/books/first/j/jones-sisterhood.html. Web. 16 Dec. 2013.
Joukovsky, Nicholas, A. "Wordsworth's Lost Article on Byron and Southey." The Review of English Studies. New Series. 45. 180. (1994). 496-516. Jstor.com. Web. 18 Dec. 2013.
Landon, Carol. "Wordsworth, Coleridge, and the Morning Post: An Early Version of 'The Seven Sisters'." The Review of English Studies. New Series. 11. 44 .(1960). 392-402. Jstor.org. Web. 19 Dec. 2013.
Roe, Nicholas. Wordsworth and Coleridge: the radical years. New York: Oxford U. P. USA. 1998. Google Books. Web. 19 Dec. 2013.
Smyser, Jane Worthington. "Coleridge's Use of Wordsworth's Juvenilia." PMLA. 65. 4 (1950). 419-426. Jstor.org. Web. 19 Dec. 2013.
Wikipedia, "Joseph Priestley House." wikipedia.org. Web. 19 Dec. 2013.
Wollstonecraft, Mary. A Vindication of the Rights of Woman: with Strictures on Political and Moral Subjects. Boston: Peter Edes for Thomas and Andrews. 1792. wikipedia.org. Web. 19 Dec. 2013.