Thursday, December 4th, 2014
The Privilege that Keeps on Giving
blackeducator.blogspot.com
You know it is true. We try, we of the pale persuasion, to be Hip Hop. When I was a kid it was the Blues we emulated, and the whiter and richer, like the Rolling Stones, the more we wanted to be bad and black. Or as Lou Reed that famous English Major from suburban New York, may he rest in Jewish heavenly peace, says "I Wanna Be Black" because blacks have natural rhythm and they don't have to be college nerdy college students, or some such thing as Lou's parody of the white blackophile, states. Any smart white person with a modicum of awareness knows that being white is not where it is at. It is a moral and cultural dead end. Not that white people haven't done some decent stuff, but white identity… forget it. It is about as hip as Wonder Bread and just as good for you.
A contingent of Seattle Black Panther Party (led by Lt. Elmer Dixon) on the Capitol steps in Olympia, WA, on 29 February, 1969.
From: antechambercollective.wordpress.com
In my own teenage years I rode on the coat tails of the Black Panthers, distributing their newspaper in my local suburban Connecticut high schools, getting my taste of martyrdom being jumped and beat up by local greaser thugs and having beer bottle thrown at me by passing truck drivers…. It was considered to be a badge of honor to be the hippie-commie-nigger lover. But those days are long gone, and the dreams of social justice, 'da revolution man' and all that faded into the realities of Reaganomics that even my attempts to cling to respectable alienation as a punk-rocker anarchist and eventually problematic druggie, could not maintain.
After several false starts in politics (losing two mayoral races and an attempt to become Lt. Governor), Maddox became infamous when he was photographed on 3 July 1964 wielding an axe handle at negroes attempting to enter his whites-only Pickrick cafeteria.
From: withintheblackcommunity.blogspot.com
I was and still am white and yet whiteness is nothing but a concept in peoples minds. I passed though the court system with barley a scratch. Judges looked at me amidst the dark brown and black masses in the line up and would say, we must have made a mistake, that white man must go free. And don't believe I didn't accept the pass. Jail is no place for a human being. And yet millions of our brothers and sisters on this planet are imprisoned and worse, simply because of the color of their skin forced to endure humiliations and early death.
So true
From: exhibitions.nypl.org
White people simply will never be able to be black, not unless they become black, or golden, or whatever and become what they are not, the oppressed, the obviously identifiable objects of scorn, discrimination and physical violence. It is no joke that black male teenagers are 21 times more likely to be shot and killed by police than whites. The Propublica report (http://www.propublica.org/article/deadly-force-in-black-and-white) has identified this shocking fact. In my Biogeography class the teacher pointed out that those who stand out distinguished by color or other easy identification are subject to predation. This is to my mind more a refection of the white state of mind, that imposes an order that places whiteness as the norm and all shades deviating from that as aberrant and deserving of culling.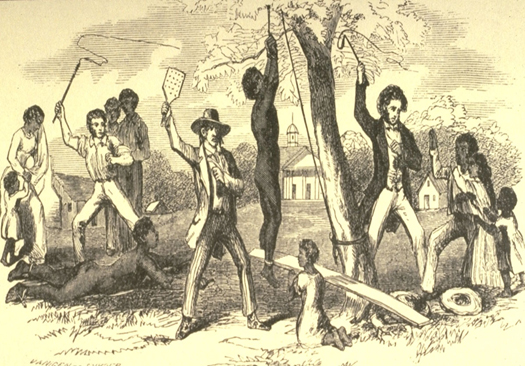 As an ethnic group, Americans of African descent have had to endure extreme mental attacks in the forms of racism, oppression, systemic discrimination and it still continues.
From: www.theafricanamericanlectionary.org
Obviously this has to stop. Perhaps it will take a localized reduction of whiteness to its true status, as a minority position, before the idea will get across that humanity is truly a rainbow, and that there is no such thing as race within humanity when it comes to biology. We are all of the species Homo Sapiens with a little Neanderthal thrown in. Perhaps it is because White people have more Neanderthal in us than other races, that makes us a little slow on the uptake. With a memory of being less viable than the other true humans out of Africa, not a bastard race like the Neanderthal-Sapiens mix that the Euro-humans became in their isolated Ice Age Europe, living in caves and wearing dead animal skins, lacking sunlight and healthy vegetables and fruits, forced to live on the dead bodies of animals. No wonder whites became a depraved variation on the sunny golden humanity, The white maggoty substance found living on decaying matter.
Neanderthal 2-5% of European genetic makeup.
From: www.dailytech.com
Ok, I made my point. It is easy to turn racism on its head. The so-called achievements of western civilization, capitalist rape of the planet and enslavement of masses of fellow humans for the sake of greed, well I could go on but I don't want too. My point is that the protests against police shootings of persons of color are necessary and must bring attention to the need for immediate change in the legal system. A legal system that is biased not in favor of defendants, as the Media seems to want to say as a way of rationalizing the continuous failure of grand juries to indite police for murder, but one that systematically is biased in favor of the representatives of state power against those who are the objects of its repressive apparatus, is both logical and obvious. What is needed is a recognition of the bias, of the racism and hierarchy of power inherent in the system set up by white slave owners and the merchant classes of the fledgling American Republic. Inheriting the system developed by English aristocrats in the middle ages to insure that their clique retained power over the unwashed rabble of England. In that time, the Magna Carta forced upon King John of England, from one perspective, to retain the right to maintain dominance over the masses, and insuring that the King did not go to far in disrupting their power by bad policy decisions. What ever the roots of the English system of jurisprudence that the USA has inherited from Roman and medieval English law, it is not designed with the interests of the people, but for the interests of the status quo elites who have been and still are for the most part white or whitish.
Prison Industrial complex part of Business As Usual
From: www.teachersunite.net
"No Justice, No Peace: is an entirely appropriate response to such an oppressive system and anyone on the receiving end of the American justice system understands its inherent unfairness, all the justice for the elite and their friends that money and position can buy/appropriate is the law of the land. It is the justice of the conqueror, ask any native American, of the master, ask any slave or former slave, of the capitalist, ask any worker struggling for simple livable wages and I could go on. But I think you get the point. Rioting and disrupting traffic, all business as usual is appropriate and necessary to bring about change.
Half white, half black. Source: CBS
From: https://wtpotus.wordpress.com/tag/half-white-half-black/
Embarrassing the nominally black president into standing for the people is a tough business, he has to face his masters every day behind closed doors, giving the world his best black face for public consumption. Perhaps there is a soul in that man somewhere, he is not truly white, I can see his awkwardness at being forced to face his black side. and it is good. We all need to bring out our inner blackness, code in reality for inner humanity. We are not machines and it is not our fate if we do not allow it to be eaten by Moloch in a descent into soulless whiteness. White bread… says it all, it has to have vitamins artificially added.
I liked that you could roll it into little balls; you could smash it flat and toast it against a light bulb.
From: pratie.blogspot.com
And the answer is direct action….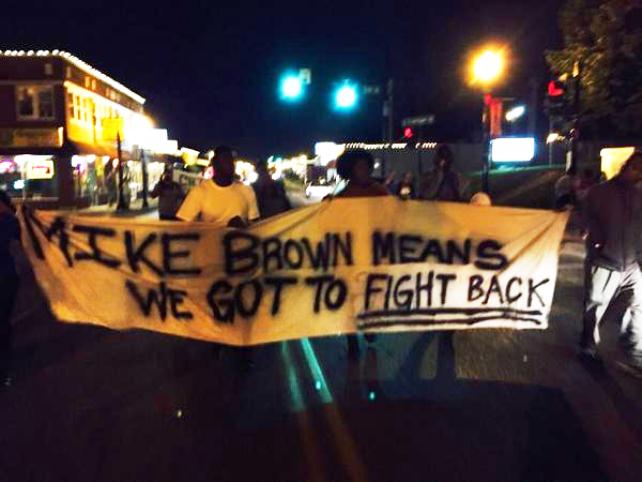 Protesters march outside Ferguson police station Sept. 25, 2014.
From: voiceofdetroit.net
While I am not going to say Obama is totally ineffectual in this area, I will say that the efforts of Attorney General Holder, are perhaps as far as Obama is willing to stick his neck out to confront the security establishment. The withholding of funds to Homeland Security by Congress may be more beneficial than not if it cripples some of its efforts in militarizing local police forces. Let us hope libertarians and left leaning liberals in Congress manage to do something about shipping military hardware to local police departments because the president has said he will not end the policy.
From: https://storify.com/suhler69916/the-militarization-of-today-s-police
Although there has been a lot of media noise on the issue, it will take grass roots activism to keep pressure on. Unfortunately, knowing how media news cycles work, the window of opportunity on this issue is about to end. Only more police violence and an appropriate response by communities will keep the attention on the issues in the media. The President, being a lame duck, at least can use the bully pulpit, and procedural changes, just like he did with immigration to bring attention to the issue. Federal funding to local police agencies should be contingent upon a real display of a reduction of police violence against communities of color an very strong policies that constrain unnecessary use of force, deadly force in particular. I personally believe the Andy Griffith policy of giving the cops only one bullet, that must be kept separate from the weapon might be the way to go. Police with loaded guns, a bad idea.
Photo of Don Knotts as Barney Fife from The Andy Griffith Show. Barney is seen here loading his pistol with the only bullet he was allowed to have. It was kept in his uniform short pocket in case it was needed. Whenever Barney loaded his gun, it would either go off while holstered, fire into the ceiling, etc
From: http://commons.wikimedia.org/wiki/File:Don_Knotts_Barney_and_the_bullet_Andy_Griffith_Show.jpg