Sunday, April 5th, 2015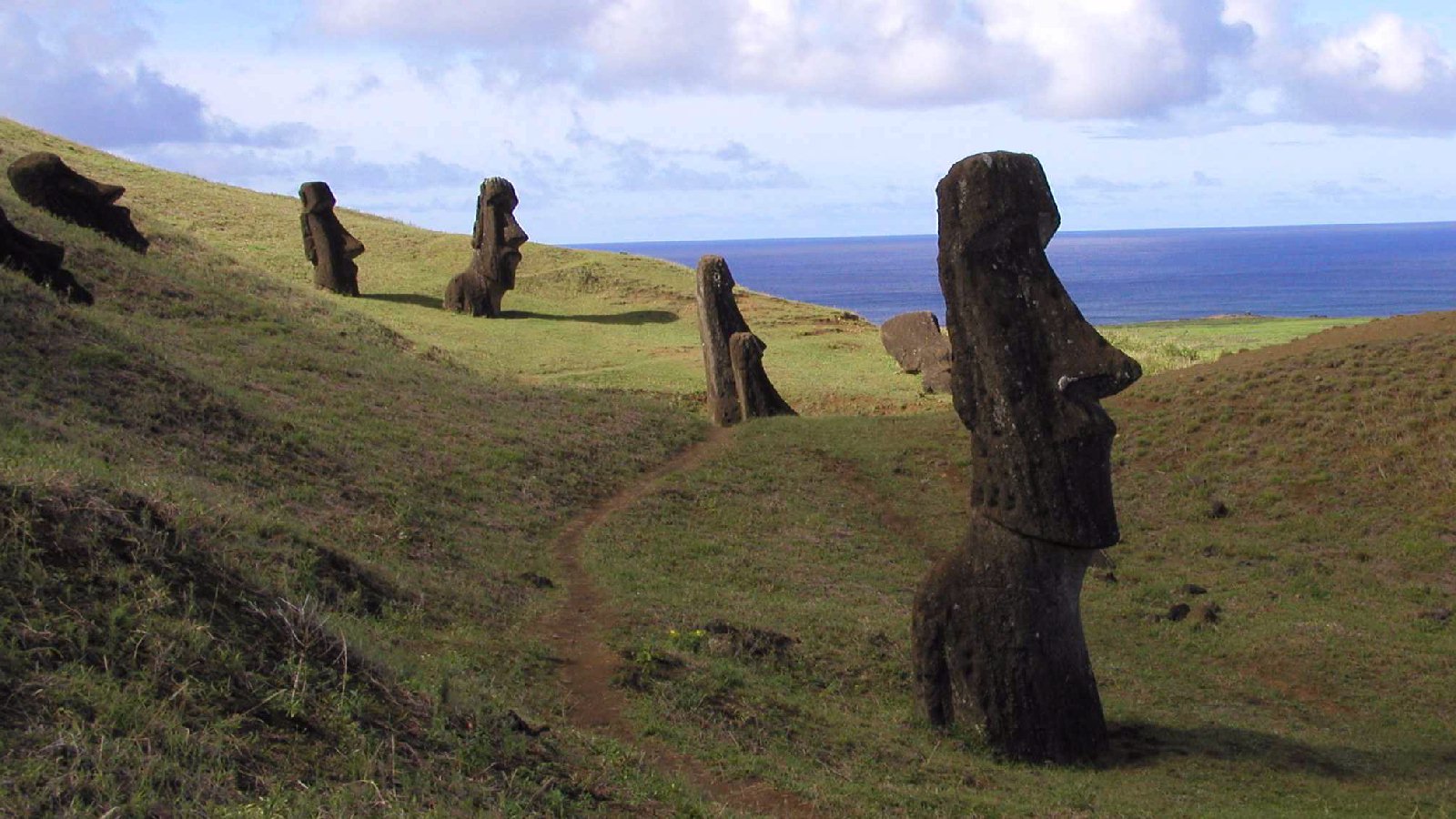 Moai Statues on Easter Island.
mg src="http://www.arthistoryarchive.com/arthistory/prehistoricart/images/Moai-Statues-Easter-Island.jpg" alt="" /
I am feeling inspired this morning. Well perhaps inspiration is too strong a term, let me just say I am awake. It started at 4:38 AM and at that ungodly hour I awoke, thinking I was late for work, checked the time, and then remembered it was Sunday. Instead of falling back in to slumber land, I pondered, rather than feel existential anxiety over my piddling fate, I was struck by the big WHY question. Why now, why me, what is the purpose of all this. Perhaps it was because of a lingering sense of duty to adhere to some normative relationship to the great Christian holiday ensuing in the world around me, or perhaps it was because the last comment I made to a fellow human being before drifting off into the land of Nod, was how I thought the whole Easter business was nonsense but entertaining for humans in need of reassurance that their lives had meaning, whatever the reason, I found myself facing the eternity abyss without panic or defensive humor, simple wonderment was sufficient.
Ruminating over the Ancient Greeks whom I have been studying of late, especially thinking about how complex and modern seeming their society was, although watching a National Theatre Production of Aeschylus' The Libation Bearers, emphasized the alien nature of Greek drama, what with the masks and chorus, but overall the Greeks seemed to be a pretty sophisticated bunch. Trying to follow the ins and outs of an ancient law suit Haginas Versus Haginas, to borrow the name from modern legal terminology, I was amazed at how tenaciously a group of fairly distant relatives battled over the estate of an ancestor who died without progeny to inherit the property, which was mostly agricultural land as described in Alison Burford's book Land and Labor in the Greek World (Burford, 43-45).
I don't know if the persistence of wrangling over property is a sign of advanced civilization, but it certainly is a sign of consistency in human endeavor. Artistically there seems to be evidence of a progression from geometric oriental influenced art to idealized human forms degenerating into naturalistic kitsch, or so the classical art historians would have us believe with their fetish for 5th Century Greek formalism, mostly surviving in Roman copies, which to my mind speaks more to nineteenth century European elite than ancient Greek taste. Which brings me to my question of the day, why did technology take off so grandly in the modern epoch? If humanity is not measurably more intelligent than before, except perhaps in the sense that more of us have the luxury of not having to work as physical drudges than before, it is not clear to me that all this excess brain power is feeding into the greater wisdom of the species, unless Youtube cat videos count as adding to the enlightenment of which we are the alleged beneficiaries. In truth, as ever was, the spark of genius that lies within, is only allowed so much physical candle power before it burns out all the moths that gather round its heated light.
Am I condemning us all to perpetual ignorance? No only to perpetual indulgence in phantasies of progress. The Hegelian in me rebels against such pessimism, but when I look at the past, I am amazed at the sophistication and complexity I see and my sense of the present day as having advanced is replaced with the concept that we have merely changed focus. By indulging in spending so much of the planetary resources in a brief incandescent moment of technological fixes, are we creating an enduring base for a vastly superior golden age to come, or merely depleting our resources in some recreation o Easter Island systemic collapse on a grand scale as Jared Diamond describes in his book Collapse: How Societies Choose to Fail or Succeed(Diamond, 79-119). I am just as suspicious of fads in doom and gloom as I am of eternal optimism. We may be on the Titanic, but oh, how glamorous our departure into the depths. Perhaps some future civilization will write a Homeric epic on the fall of oil based technological civilization as the ancient bard wrote of Troy falling to the barbaric Greeks. It is hard to imagine aircraft carriers launching jet fighters and rockets red glare with solar and wind power. On the other hand in a collapse, these would probably be the last hold outs of the technology of the children of the Enlightenment as we moderns are.
Okay there I go again with my pessimism. But it is Easter Sunday, at least according to the revised Gregorian calendar, and we are here to celebrate a renewal of life, a second chance as it were. We, the people of the world, choking in our oil petrochemical waste, plasticizing our oceans as we are, eating organic produce wrapped in petrochemical products, etc, are we hell bent on removing the possibility of redemption simply because we have so clogged the arteries of divine cleansing that we are insensible to its effects? Divine cleansing, as if the divine could be reduced to a detergent, Mr. Clean genii popping out of another bag of tricks to provide us with an escape, just in the nick of time from our own childish refusal to see that over our shoulders there are dues to pay. Jubilee, indulgences for all, please divine daddy…
I should not be so dramatic, after all, there is progress in specific areas. It is just the unintended consequences that become problems. I am thinking about the extended life spans of people. Resources are spent on caring for the elderly that could be spent on early childhood education and poverty elimination. But we could also do that by simply eliminating the huge military budget. If the US spent as much as European countries we might even be able to afford socialized medical care, and take care of the young and elderly. One can dream. Maybe even throw in free university education, Obama has the right idea for free community college.
Perhaps we as a world civilization will move on to the socialist paradigm, and away from the Capitalist one but then there will be issues of the individual against the bureaucratic machine, Ayn Rand followers might then actually have a case. The State in the US is merely intrusive rather than overwhelming. Interestingly enough it wasn't until I had a catastrophic illness that I really benefited from the state. Going back to school, medical care and tax relief were some of the most evident benefits, it made kidney failure almost enjoyable. Being back at work has been somewhat traumatic, especially because it has forced me to cut back on school. The experience has shown up the class distinctions in the US with education becoming again a luxury for the affluent, unless massive debt is something in your aspirational vision. Hmm not doing too good with this optimism thing, not really my forte.
This was what we used to do for Easter when I was a kid. Only our eggs were not so fancy.
mg src="http://allsparkledup.files.wordpress.com/2013/03/18-1968-egg-tree-1.jpg" alt="" /
Works Cited
Burford, Alison. Land and Labor in the Greek World. Baltimore: Johns Hopkins University Press. 1993.
Diamond, Jared. Collapse: How Societies Choose to Fail or Succeed. New York: Viking. 2005.