artofeurope.com
1822: Musée du Louvre, Paris
Alternatively titled The Bark of Dante, this painting was Delacroix's first Paris Salon triumph. Inspired by Dante's Inferno, the red-robed figure is the Latin poet Virgil, who guides Dante through Hell as the writhing, demonic souls of immoral Florentines struggle to get into the boat.
"Dante's and Virgil's Relationship with Power"
By Gary Crethers
Virgil and Dane both lived in rough political times. Civil wars had drawn both of them into the conflicts of their day. Virgil originally a somewhat pacific follower of Epicurus (DeWitt 105, 109), and according to Aelius Donatus, fourth century C.E. biographer, Virgil was a student of medicine, mathematics, and a not very good speaker (Donatus 15-16). From these roots he became the poet of empire, using the myths and history of the past to rationalize the consolidation of the imperial Roman project. Having witnessed an exhausting series of civil wars, Virgil's efforts are to valorize and consolidate with a rhetorical foundation, the fait accompli, the new peace of Rome. Some of the roots of Virgil's transformation will be explored. Dante in contrast is seeking that very foundation upon which to build a revitalized world of peace, something that for all his efforts remained a vision. Dante was looking forward to an Italian world that would rebuild the greatness of the past grandeur that was Rome, not as a mere imitation of the old empire, with the church and state merely reunited, but in a new flowering of culture in a reformed Florence as part of a truly Holy Roman Empire. That vision was fractured by the reality of corrupt competing interests, but also because there was an emerging sense of regional nationalism in Dante's time that he participated in with his choice to write in the vernacular. Their responses to the conflicting interests; and how they rationalized and polemicized for a peaceful and better world.is complex, yet each came up with a vision as to how this this could be done. This overly ambitious premise cannot digested in such a short paper, therefore only nibbles around the edges of the subject will be attempted. A taste of Virgil's youthful diversion from an Epicurean rejection of the politics of the day, into an apologist for Empire will be briefly conjectured upon. Dante's experience in the politics of Florence around the critical time of 1300 CE when he had his disastrous experience as a prior and subsequently used that time in his personal wilderness to site his Comedia, will be touched upon. Some notes on his deliberate corrections of or mistranslations of Virgil in what is perceived as a setting the stage for justification of the use of the vernacular as Dante compares himself, to the ancient author with a rather modest sense of his own place among the giants of the poetic arts.

Birmingham Museums and Art Gallery/The Bridgeman Art Library
The head of Pompey is delivered to Julius Caesar in Caesar Before Alexandria, an eighteenth-century oil painting by Giovanni Antonio Pellegrini (1675–1741)
Virgil writes in a turbulent time. The Roman Republic is collapsing. Born in 70 BCE, he was 21 when the civil war breaks out between Caesar and Pompey in 49 BCE. Caesar's army famously crosses the Rubicon and Rome is abandoned by the Senate and Pompey as they head for the safer ground of Greece. Virgil alludes to this tine in the Aeneid, when in the Underworld Aeneas's father makes some predictions, where he clearly references Caesar and Pompey:
from Gaul and the Alps the father-in-law will march
against the son with Eastern Legions massed.
(Children, never grow hardened to wars like those;
against your homeland raise no hostile hand!
Oh, take the lead, show mercy, child of heaven,
throw down that sword, son of my blood!) (Aeneid VI: 830-835)
The elder Pompey was Caesar's son-in-law by marrying Caesar's daughter Julia. Upon her death in childbirth, the alliance between the two men faltered. Virgil's evident dismay at the wars, calling the two great warriors children is bold, but also as a warning to future would be rebels, children now. Evidence of the subtle manner in which he can imply several levels of meaning in so few phrases, with the conflict between the east and west, prefiguring that of Antony and Octavian, in the past when written but a future event in the poem, displaying also an artful polemic in favor of Augustus with the losing side having come from the East. This was the land where Antony was led astray, where he turned from his marriage to Octavian's sister to dwell in the beguiling arms of Cleopatra as Caesar himself had done. Octavian, would have none of this and proved himself thus to be a virile and upstanding Roman, untainted by any eastern vice, or so the propaganda implied (Grant 185-189).

Wikimedia.org
Antony and Cleopatra (1883) by Lawrence Alma-Tadema Escaping from Actium
Norman DeWitt states in his "Virgil at Naples" that Virgil had, just before the demise of Julius Caesar, in about 45 BCE, joined the movement of Roman intelligentsia in to three camps, his being the pacifist, Epicurean group heading for Naples, a Republican group relocating in Athens and a more "ribald circle" of Antony's supporters stayed in Rome. Virgil stayed there until his return to Mantua (DeWitt 109-110). Steele Commager in his introduction to Virgil A Collection of Critical Essays, picks up the story when Virgil in the first Eclogue has a conversation between Meliboeus and Tityrus wherein "Meliboueus, dispossessed as a result of civil wars, is compelled to leave his fields in search of a new home: 'such disorder is there throughout the land' (E. 1.12)… Tityrus, almost certainly a mask for Virgil himself, survives to sing… only through the intervention of a godlike Octavian: 'O Meliboueus, it was a god who bestowed this peace upon us' (E. 1.16)" (Commager 1-2). In fact in aftermath of the civil wars following Caesar's death in 44 BCE, which was first between Octavian and Antony against Brutus and Cassius in 43-42 BCE and then between Octavian and Antony in 41 BCE, ending in 40 BCE when Virgil was thirty. Sometime in this period Virgil had his property confiscated as discharged soldiers were given portions of Mantua, resulting in his expulsion from the estate of his family, which he was able to recover due to his poetic efforts placing him clearly in the camp of Octavian and against that of Antony (Bunbury 265, Commager 183, DeWitt 110). Aelius Donatus states in his Life of Virgil, that Virgil wrote the "Bucolics, primarily in order to honor Asinius Pollio, Alfenus Varus and Cornelius Gallus, because they kept him from being penalized in the distribution of lands after the victory at Philippi, when the lands on the other side of the Po were being divided amongst the veterans by order of the triumvirate" (Donatus 19). Pollio, according to Ronald Syme in The Roman Revolution, Virgil's mentor was about to become consul at the same time that Virgil wrote the "Fourth Eclogue" and was instrumental in bringing about the peace between Octavian and Antonius which was sealed with the marriage of Octavian's sister to Antony. This golden age of peace was what was being celebrated by Virgil (Syme 218-219). Thus we can see that Virgil was affected by the turbulence of the times even though he tried to stay out of the battles, he became intimately involved with the powerful rulers of the new Rome.

oberlin.edu
Vatican Virgil Late Antique 5th C vellum codex. Rome, Vatican Libraries
Unlike the classical period Greeks who reveled in the life of the Polis, Romans waxed nostalgic for their lost rural idyll and by Virgil's time anyone who could afford it had a country villa (Wormell 2). Virgil himself spent as much of his time as possible on his land, writing in his pastoral "Eclogues" of an abstracted Arcadia. Rome had already become as Wormell paraphrases Horace saying "too dirty, too wealthy, to noisy, especially in the summer heat" (2). Virgil, as DeWitt says had become somewhat disillusioned with Roman life and studies by 45 BCE when he retired to Naples and evidently from poetry to study philosophy (DeWitt 105). Virgil in one of the minor poems "Catalepton" exhibits several of the qualities noted by DeWitt, his dismay with his studies, determination to study Epicurean philosophy with Syro, his giving up the boys (Donatis 9), and even muses, although how seriously this is to be taken is debatable considering his prodigious writings:
Ye empty tubs of rhetoricians, off with you,
You're merely words inflated not with Attic dew;
Ye Seliuses, Tarquitiuses, and Varro, too,
A tribe of scholars filled with lore that's dull, if true, O empty cymbal of our youth, be off with you!
And thou, O Sextus, foremost in my thoughts, good-bye.
Sabinus, too; now, handsome youths, to you good-bye.
For we to happy havens spread our sails and fly,
And seeking noble Syro's learned words have we
From every care our life henceforward rendered free.
O Muses, off with you, be gone with all the rest!
Ye charming Muses, for the truth shall be confessed
Ye charming were, and modestly and rarely still
Ye must revisit papers that I then shall fill. (V: 1-14)
Leaving Virgil in a pique, attempting to get a sense of the man and some of the underlying motivations in his life has led to some points on his seeming reluctant journey into becoming spokesperson for empire. Perhaps that is why he speaks so much of duty, and giving up of Dido in the Aeneid, who in this context may represent a leaving behind of a life he had loved. Virgil was perhaps seeking a retired life and not one in the center of things and yet, there he was a popular author at the center of the imperial propaganda machine. Certainly although Aeneas has a somewhat reluctant hero quality about him, he did his duty. Kimberly Bell noted in her article "'Translatio' and the Constructs of a Roman Nation in Virgil's Aeneid" that Virgil himself, had planned to spend several years in Greece revising The Aeneid but was persuaded by Augustus to accompany him back to Rome, dying on the voyage in 19 BCE (Bell 12), thus one last time putting duty ahead of desire.

gwu.edu
This painting above (by Domenico di Michelino, 1465) depicts the poet Dante gazing toward Florence (the walled city on the right). The painting is in the Duomo (Cathedral) in Florence.
Dante is living in a time where Florence is more like the Greek Polis, the center of a smaller world, the place to be, and in exile, his longing is not for a rural idyll but the life of the city he once knew. Italy was in the midst of the height of medieval expansion, just before the collapse in the 14th century wars and epidemics. As Joan Ferrante points out in her introduction to The Political Vision of the Divine Comedy, it is among other things a "political tract" in the context of the religious-political debates of the early 14th century where she quotes George Holmes summing up Dante's political agenda as "the necessity for a universal Roman Empire and a Church without money or jurisdiction" (qtd. in Ferrante 6) which had remained consistent with earlier works. Ferrante claims Dante and many others in his time had reason to hate Boniface, the pope of the time when the Comedy was supposed to take place (77). Blaming the Pope Celestine V for allowing Boniface to become pope (85), Dante says "I beheld the shade / Of him who made the Great Refusal, impelled / By cowardice" (Infer. III. 49-51). Boniface according to sources in Ferrante tricked Celestine into retiring by drilling a hole in the wall into his room and with a tube at night, called out to Celestine to renounce his position while Boniface pretended to be an angel of the lord (81-82). Boniface intrigued against Dante's faction in Florence the White Guelph's who became allied to the Ghibellines (Schevilli174). Dante in Canto 27 describes how Count Gudio was tricked by Boniface into helping him defeat his enemies with a promise of absolution that never came as he was about to be carried off to heaven but because he had no absolution and had not repented because he thought he had been granted absolution in advance, he was doomed to the eighth circle of hell "because he counseled fraud" (Infer. XXVII: 117). Boniface, according to Dupuy, said about the Eucharist, it's "no more Christ's body than I am" (qtd. in Ferrante 83). He was accused of any number of sins.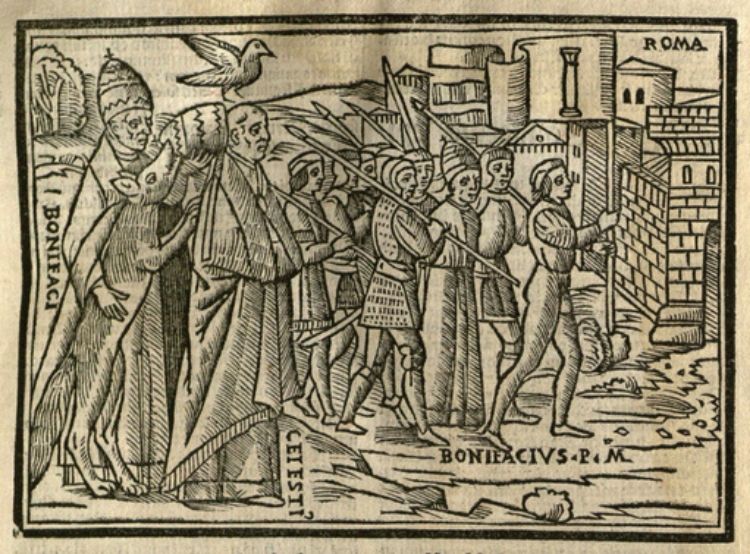 http://theratzingerforum.yuku.com
Liber Sextus: Sextus decretalium liber a Bonifacio viii in concilio Lugdunensi editus (Venice: Luca Antonio Giunta, 1514), Courtesy Lillian Goldman Library, Yale Law School. Boniface's foxy fox is pulling the papal tiara off Celestine's head, while the holy dove flies above the latter's head.
Dante sets himself up to deliver the message of the divine function of Rome, comparing himself in the negative to Aeneas and St. Paul (Infer. II. 9-30). The explication of the separation of the papacy and the state, the devolution of Florence in to the city of Hell, as Dante's great hope for restoration of the empire Henry VII states calling the Florentines "proud sons and heirs of Lucifer" (Ferrante 49-50), is an ongoing political theme in the Comedy. Ferrante divides Dante's message into three parts, the Inferno representing the fallen city, Florence, Purgatorio is Italy and Paradiso is the eternal Rome (46-47). With that in mind "Dis" becomes not just the citadel of Satan and schism indicated by the "Mosques," but so soon after the description of "Filippo Argenti" (Infer. VIII 58-67), is indicated its role as the impediment to the restoration of the Roman Empire on earth and yet it is in the linguistic unity of the vernacular Italian that Dante finds to be a basis hope in the Purgatorio and thus Florence is also the hope of Italy (47).

college.columbia.edu
Studious Dante
Dante also found sponsors but never a victorious leader, unlike Virgil who managed to find himself on the winning side of the Roman Civil Wars attached to Octavian. Dante was embroiled in a miniature version of those grand Roman battles being played out in Florence. Ferdinand Schevilli, in Medieval and Renaissance Florence, states that "[Dante] was a scholar, poet and a gentleman of leisure, who like his forebears who derived his living from a modest property" (Shevilli 171-172). As a young man Dante had joined a guild where he was listed on the roles of the physicians as a poet. The Guelph forces had taken control of Florence establishing the six ruling priors in 1282 when Dante was seventeen. Dante did not play a significant role in politics until 1300 when the Whites had reasserted control of Florence under Veri de' Cerchi. At that time he declared himself for the Whites and spent several months as a prior when the city was threatened by Pope Boniface and the pope's agent Charles of Valois. Cerchi, more concerned with his property, being a rich merchant, than defending the city seems to have convinced himself that Valois was a peace maker between the papal supported Black Guelph's and the White Guelph faction which had recently evicted the Black Guelph's. Valois proceeded to then allow the exiled Black Guelph's into the city where they took power, raped and pillaged for five days, made lists of all the recent White supporters of influence including all the priors to be brought to trial before the Black supporting court. This was Dante's cue to get out of town in early 1302. He promptly had his property confiscated and a death sentence placed on his head, earning Boniface his enmity. Interestingly Boniface did not gain control of Florence, his agent Valois simply allowed the Blacks to return to power (171-174). Dante's only revenge was literary. Valois had his name etched in the Purgatorio where the spirit of Hugh Capet prophesizes:
He does not carry weapons when he comes,
only the lance that Judas tilted; this
he couches so – he twists the paunch of Florence.
From this he'll gain not land, just shame and sin, (Purg. XX 73-76)
The paunch being twisted perhaps that of Cerchi who placed his own wealth over that of his party and allowed Florence to be taken leading to Dante's exile.

wikipaintings.org
Dante in Exile - Frederic Leighton. Artist: Frederic Leighton
The twin forces of Empire and Church betrayed in Dante's Inferno and following an inescapable logic, the ultimate sinner are the ones who betrayed their trust in the two institutions he most needed to provide order in the world. Judas's betrayal of Christ and Brutus and Cassius betraying Caesar each in one of the mouths of Satan himself (Inf. xxxiv. 56-66). According to Erich Auerbach in Dante: Poet of the Secular World, each sin has been logically placed in a plan based on Aristotle's Nicomachean Ethics as developed by St Thomas Aquinas, Dante had his revenge based on logic and ordered design. Dante has no room for those who are indifferent, Auerbach notes he has a particular loathing for these stating "The violence of Dante's tone when he speaks of them reveals the very personal bias of a man who was passionate, fearless, and indomitable in his espousal of the good, and for whom active struggle was the natural form of life" (Auerbach 105-110). One has to think of the suffering of Dante in exile, having fought for a cause he believed in, having participated in the politics of his city Florence and then to have been rejected and exiled, must have been for him a great betrayal, and those symbolizing the indifferent, the traitors and betrayal he felt was transferred directly into the poem.

electronicbookreview.com
Bordando el manto terrestre, by Remedios Varo.
Dante appropriates Virgil for his own purposes, creating a new version of Virgil to chastise those in his world who are destroying civilization by their barbaric and greedy behavior and also reminding them of the lost world of Roman glory in the process. Robert Hollander in his essay "Misreadings of the Aeneid in the Inferno," indicates this dwelling on what to him is a deliberate change of Virgil's description, translating from the Latin:
Yonder too, Ocnus summons a host from his native shores,
son of prophetic Manto and the Tuscan river, who gave thee, O Mantua, ramparts and his mothers' name, rich in ancestry, yet not all of one stock: three races are there, and under each race four peoples: herself the head of the peoples,
her strength from Tuscan blood " (Aen. 10. 198-203).
Hollander says that Dante is deliberately misquoting Virgil as a criticism of his "master and author" (Hollander 77-78). This is transformed in Dante to:
And she, whose loose hair covers her breasts unseen
On the side away from you, where other hair grows,
Was Manto-who searched through many lands, and then
Settled in the place where I was born. (Inf. xx. 49-52).
Dante has Virgil go on to say after a fairly long aside about the country round Mantua, "There Manto the savage virgin saw in mid-fern / A stretch of dry land, untilled, uninhabited;" (Inf. xx. 71-72). Then he describes how people settled in the marsh building the city:
Over her bones, with not lots or divination
They named it Mantua. Before the fool Casalodi Was deceived by Pinamonte, its population
Was larger. So let no other history,
I charge you, belie my city's inception (Inf. xx. 80-84).
Dante reading other sources, Hollander cites Ovid and Statius (Hollander 79), changes Manto into a virgin, and comments on some of the politics of his day using Virgil's voice. Dante has in correcting the error of Manto's status, virginal in his view, out done Virgil, and in this demonstrating his worthiness for entrance into the circle of poets he eulogizes "And far more honor: that fair company/Then made me one among them-so as we traveled/Onward toward the light I made a sixth" (iv. 84-87) .

http://melissapalombi.wordpress.com
Map of Mantua
Dante is now not only making a case for his inclusion in this lofty circle but as he states they are moving to the light of understanding and wisdom, even in this place in the ante room of hell. On another level Dante has created for himself the justification for the use of the vernacular language in poetry as a "poeta" and thus argues that his native Florentine is the equivalent of the classical Latin which after all was the vernacular of its day. Kevin Brownlee in his article "Why the Angels speak Italian: Dante as Vernacular Poeta in Paradiso XXV" states much the same "It is also in Inferno IV that we find the Divine Comedy's first presentation-both implicit and indirect – of Dante as in some sense making claim to this prestigious title" (Brownlee 603-5). Thus commenting on the nature of contemporary readings of meaning in older texts, Charles Martindale, in the introduction to The Cambridge Companion to Virgil, argues that Dante uses "strategies for mediating cultural change and for negotiating relationships with the past which are deemed significant for the present." Marindale states "Did not the Greekless Dante effect one of the two or three most powerful and exciting readings of Virgil-what Harold Bloom, who argues that all readings can be construed as 'misreadings' (either strong or weak), would call a 'strong misreading'- in the Divine Comedy, his own narrative revision of the Aeneid?" (Martindale 2, 8-9). Still Dante did a more than yeoman like job in transferring what he desired from the Aeneid and was perfectly capable of coming up with his own reading, to suit his purposes. Dante's Virgil spoke to his time, a tool for his use in creating his own vision.

oxfordgallery.com
Virgil and Dante meeting Homer, Horace Ovid and Lucan, oil on canvas, 37″x54″ Painting was shown in the Boston Athenaeum from 1850-1869.
In Visions of Heaven and Hell Before Dante, Eileen Gardiner notes that Dante was fully cognizant of the European visionary tradition, including some very detailed descriptions of a descent into hell such as is described in "Tundale's Vision." This tale attributed to Ireland where a knight, Tundale went into a coma and reported this story to monks who then conveyed it to Bavaria in the next year and soon it was circulating in some 13 languages. With its levels of hell and punishments allotted for different crimes, the guardian angel, foul smells, sights and sounds of the hellish state (Gardner xiv, xvi, xxvi). This tradition with its tropes and traditions available to Dante was also grounds for a European view that was not strictly based in the classics and had a modern, even cosmopolitan flavor if such tales from the crypt could be considered to be urbane. They were in the sense that they represented a living European culture not dependent on the long ago past.

nytimes.com
A detail from "Mankind's Eternal Dilemma — the Choice Between Vice and Virtue" by Frans Francken the Younger, from about 1633, part of Sotheby's "Divine Comedy" exhibition.
The Roman world of Virgil was one emerging out of the chaotic civil war period. Rome had been transformed from a minor rather provincial city state in a land remote from the center of action in the Greek world, to becoming in less than two centuries the center of power in the known world of their time and an urban megalopolis. Power struggles between factions had been a fact of life in Virgil's youth and he strove to support the consolidation of peace under Augustus through the mythologizing of Octavian's patrimony in the Aeneid. Rome needed an ideological literary rallying point worthy of its position as the new undisputed leader of the Mediterranean world, something as worthy as the Greek classics of Homer, that task Virgil, the former pacifist, seeing peace in the new world order providing, what he hoped to be in dutiful Aeneas, a model for the new rulers of the world which he set out to accomplish with the blessings of the newly transformed Octavian, now Augustus.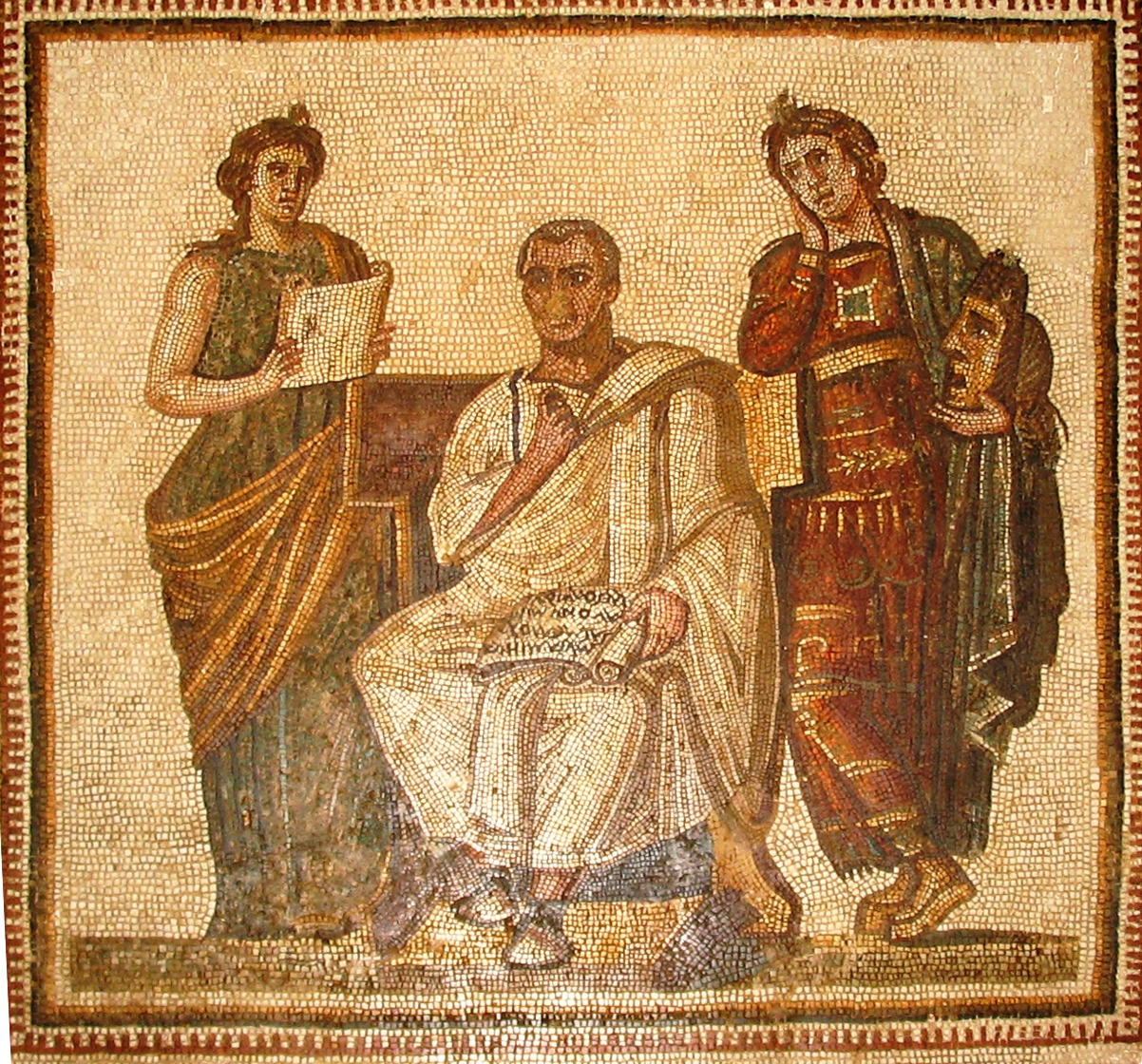 http://academic.shu.edu
Virgil, between Clio and Melpomene 3rd century mosaic, Hadrumetum, Tunisia
Dante also grew up in changing times but in his case the medieval city state in the 13th century was jockeying for position within a less than imperial or Holy Roman Empire. An unstable future in the 14th century dawned as attempt after attempt to create a unified state collapsed with rival factions continuing to rule in the secular states of the Papacy and the Empire as well as the independent city states such as Florence of the time. Dante in his Divine Comedy chastises, and prods his contemporaries into greater efforts with his projection of the hoped for world in his model La Comedia. His efforts were not to bear fruit in his time, but instead he provided the foundations for the modern Italian language and perhaps ultimately the Italian state by his powerful stance for a just world order.

commons.wikimedia.org
William Blake: illustration to Dante The Divine Comedy, Inferno, Canto I, 1-90
Works Cited
Auerbach, Erich. Dante Poet of the Secular World. 1929. Trans. Ralph Manhiem, U. of Chicago P. 1961. Print.
Bell, Kimberly K. "'Translatio' and the Constructs of a Roman Nation in Virgil's Aeneid." Rocky Mountain Review. 62: 1 (2008). 11-24. JSTOR. Web. 1 Dec. 2013.
Brownlee, Kevin. "Why the Angels Speak Italian: Dante as Vernacular Poeta in Paradiso XXV." Poetics Today. 5.3, Duke U. P. (1984), 597-610. JSTOR. Web. 1 Dec. 2013.
Bunbury, Edward, Herbert. "Mantua." Dictionary of Greek and Roman Geography in Two Volumes. Vol. 2. Ed. William Smith. Boston: Little, Brown and Co. 1857. 265. Google Books. Digitized 29 Jan. 2008. Web. 30 Nov. 2013.
Commager, Steele. Introduction. Virgil A Collection of Critical Essays. Ed. Steel Commanger. Englewood Cliffs, N.J.: Prentice Hall. 1966. 1-13. Print.
Dante, Alligheri. Inferno. Trans. Robert Pinsky. The Bedford Anthology of World Literature The Middle Period. 100 C. E. – 1450. Ed. Paul Davis et. al. Boston: Bedford/St. Martins. 2004. 679-848. Print.
Dante, Alighieri, Purgatorio. Allen Mandelbaum, and Peter Armour. The Divine Comedy. New York: Knopf, 1995. Print.
DeWitt, Norman. "Virgil at Naples." Classical Philology. 17: 2 (1922). 104-110. JSTOR. Web. 2 Dec. 2013
Donatus, Aelius. Life of Virgil. Trans. David Wilson-Okamura. (2008). Virgil.org. Web. 2 Dec. 2013.
Ferante, Joan M. The Political Vision of the Divine Comedy. Princeton: Princeton UP. 1984. Print.
Gardiner, Eileen, Introduction. Visions of Heaven & Hell before Dante. Ed. Eileen Gardner. New York: Italica P. 1989. xi-xxix. Print.
Grant, Michael. Cleopatra. New York: Barnes & Noble. 1992. Print.
Hollander, Robert. "Dante's Misreadings of the Aeneid in Inferno." The Poetry of Allusion Virgil and Ovid in Dante's Commedia. Ed. Rachel Jacoff and Jeffery T. Schnapp. Stanford: Stanford UP. 1991. Print.
Martindale, Charles. Introduction: 'The Classic of all Europe'. The Cambridge Companion to Virgil. Ed. Charles Martindale. Cambridge: Cambridge UP. 1997. 1-18. Print.
Schevill, Ferdinand. Medieval and Renaissance Florence Volume 1: Medieval Florence. Rev. ed. New York: Harper & Row 1963. Print.
Slaughter, M. S. "Virgil: An Interpretation." The Classical Journal. 12: 6 (1917). 359-377. JSTOR. Web. 1 Dec. 2013.
Syme, Ronald. The Roman Revolution. Rev. ed. Oxford: Oxford U. Press. 1956. Print.
Vergil. The Minor Poems of Vergil: Comprising theCulex, Dirae, Lydia, Moretum, Copa, Priapeia, and Catalepton. Trans. Joseph J. Mooney. Birmingham: Cornish Brothers. 1916. Virgil.Org. Web. 2 Dec. 2013.
Virgil, The Aeneid. Trans. Frank O. Copley. The Bedford Anthology of World Literature The Ancient World, Beginnings-100 C. E. Ed. Paul Davis et. al. Boston: Bedford/St. Martins. Wormell, D. E. W. "The Originality of the Eclogues sic paruis componere magna solebam." Virgil. Ed. Donald R. Dudley. New York: Basic Books, Inc. 1969. 1-26. Print. 2004. 1181-1265. Print.

http://ayay.co.uk
A william blake paintings picture entitled " dante beatrix addresses from the car "
Post script. January 9th 2014.
I just read the entire Medieval and Renaissance Florence Vol. 1 by Schevilli up to and past the part Dante is concerned with at the time of writing The Divine Comedy, some details I got wrong in my rush to produce a paper, Dante essentially became a Ghibelline after being forced out of Florence with his fellow White Guelphs by the Black Guelphs, and being welcomed by his fellow exiles the previously defeated Ghibelline faction. The twists and turns of the various factions in Florence revolved around the various interpretations of how to best insure the freedom and prosperity of the Florence city state. Generally the Ghibellines believed in their participation in the Holy Roman Empire, and the Guelphs believed in supporting the Papacy in its ongoing struggle for authority over and against the Imperial interests. Dante himself, eventually came to a vision of a restored Rome with the Imperial and Papal authorities accepting their places as coequal an older vision that had been increasingly become unrelated to the real world of Italian politics. It was perhaps a traditional vision, looking back more than forward, although his use of the vernacular and his elevated world view in his great poem eventually made him a model from which Italian nationalists drew much inspiration.