Alex's Bar 2913 East Anaheim Street, Long Beach, CA 90804
Longbeachhappyhour.com
This evening I took a stroll through my town, walking across the mid section of Long Beach down Anaheim Street mostly through Cambodia Town. I was struck by the amount of bars on the windows of shops and the empty buildings and lots in my neighborhood. This is Saturday evening and one would expect people to be geared up for celebrations. Mostly I noticed teenager and twenty something youths hanging around empty lots and bus stops, not looking festive, but more aimless, like they were just looking for something to happen. Most of the businesses were closed, except half a dozen liquor stores, a couple of churches, one with a preacher rapping in amplified Spanish and another with a pretty kick ass band playing rousing Spanish Christan Rock, otherwise only bars getting ready for the night crowds, some cops raiding a local residential hotel, and a drunk who bummed my bus change off me. I didn't mind, I was walking anyway. There are a couple decent clubs in the area for neo-punk/goth fans. I sometimes listen as I go for my nightly strolls. But all day I have had a feeling of foreboding, something about the events around the world has me feeling that things could get crazy, even here in slumbering America.
Thousands of pro-Palestinian demonstrators holding banners and chanting anti-Israeli slogans walk in Paris, Sunday, July 13, 2014
www.theblaze.com
It could have been me, I have been pondering the explosive world political scene as population pressure on resources is reflected in increased conflict over territory. Ethnic minorities flame up in arms as political solutions, democratic or otherwise increasingly fail to provide satisfactory living environments across much of the planet. Neo-liberals from the affluent post colonial nations try to impose a form of exploitative capitalism upon the struggling nations of the world, encouraging governments and elites to forget social obligations and traditional non-economic relationships, by presenting economic exploitation as the only efficient and inevitable model for the future. This naturally will draw resistance from populations not totally devastated and demoralized.
Protesters run by a fire barricade near the aerial metro station of Barbes-Rochechouart, in Paris, on July 19, 2014. Photo by AFP.
It is one reason that I see the IS as becoming something of a magnet for the disaffected youth of the world who want to do something to fight back against the megamachine of capitalist and western domination. Arabic youth in Europe who feel the cold shoulder of racist, nativist reaction through out the continent are increasingly finding the path to Syria and Iraq as a feasible prospect. The French government's ban on protests against Israel are not helping. Feeling left out, felling as if they have to conform to western values, which increasingly means chasing the chimera of jobs through education in some sort of version of survival of the fittest now being played out on the former islands of enlightenment, the universities. But in reality as more people gain these degrees they simply become devalued, a bachelor's degree doesn't guarantee anything much more than a supervisory position at a Walmart or a fast food chain, the competition for real and not McJobs has just had the ante upped, masters degrees or better now for those good jobs are required. If one is fortunate enough to live in a country with jobs then the debt load for an education can be dream crushing.
New Yorkers protesting unemployment. (file photo). Tue Mar 6, 2012 6:41PM
presstv.ir
I was wandering around the internet this morning, watched a bit of France24, turned to RT coverage of the downed plane site in the Ukraine where they were interviewing locals, watched the Obama take on that bombing on the Website of the Presidents press office, turned to Cuban, Afghan, Polish and eventually Greek TV on the internet. When I got to the Greek channel run by former employees of the now unfunded Greek Public Television, I saw the first hopeful thing I had seen in a while on the airwaves. The channel was positively chock full of creative experimental documentaries and art pieces, cutting edge bands playing interesting mixes of heavy metal and classical music, I could feel the palpable idealistic release of energy as a community of activist programers, freed from constraints to toe some government line, were pouring out their hearts in incisive and radical programing. It was Democracy Now on hyperdrive, Or maybe like what TV would be like if Anarchist college professors and students ran the station. Perhaps they do, or at least a really liberated socialist community of programmers are in charge over there. ERT is the network, EPT Live, one of the stations in the network is showing a French language, Russian subtitled antiwar documentary of some film from the twentieth century. Its about "Basil Zaharoff (born Basileios Zacharias Zacharoff, Greek: Βασίλειος Zαχαρίας Ζαχάρωφ; October 6, 1849 – November 27, 1936) was a Greek-born arms dealer, industrialist and philanthropist.
One of the richest men in the world during his lifetime, Zaharoff was variously described including "merchant of death" and "mystery man of Europe"" (Basil Zaharoff, Wikipedia)
No ordinary Orient Express passenger, Basil Zaharoff – later Sir Basil – was an arms dealer, financier and businessman
www.orient-express.eu
Check out the channel. It is a breathe of fresh air.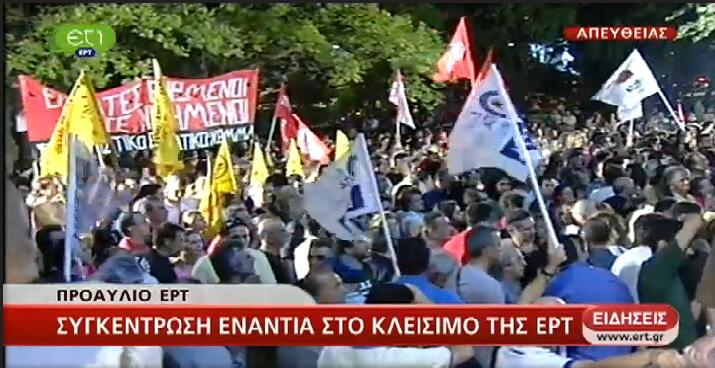 Closed Greek Public TV station ERT broadcasting under workers' occupation via Spanish Public TV. Posted on June 11, 2013 by critical media review
http://greekreporter.com/watch-ert-live/
Now there is footage of street protests in Greece, chanting "the people united will never be defeated" in Greek. My kind of TV, a Greek satirical song based on the tune "Jingle Bells." how cool is that?
Teachers chant slogans during a protest at the northern port city of Thessaloniki, Greece,18/09/2013
http://www.independent.ie
Protests in Paris, that center of culture and civilization, are growing as the country fails to integrate children of immigrants. Something that has been exacerbated by the economic crisis which still has youth unemployment at 25% to 50% or more in Europe and the USA.

Recent street protests in Paris.
From a site called Paris Through German Eyes (mostly German photos of Paris in WW2).
Tomorrow, Sunday July 20, 2014 I will probably join the protests, at the Federal Building on Wiltshire in LA, against the Israeli assault on Gaza. It is not much but it is something. Just doing nothing would be criminal.
Israeli airstrikes killed five Palestinians in Gaza overnight Monday, with at least 192 killed and 1,400 injured as Israel's assault enters its eighth day. July 2014.
shahidblog.com
Tags: French Protest Ban, Greek TV, I.S. Education, Protest Israeli Assault on Gaza, Youth Unemployment