Saturday, September 6th, 2014

Wikimedia.org
Prickly Pear which is also known as Cactus Pear or Opuntia has a number of health benefits.
Today I woke up, read some Bio-geography, and then noticed I was dizzy. That is usually a sign of low blood sugar and sure enough mine was down to 52. Normal is 80-120, 200 means take insulin. I took a little glucose tablet and decided to make something to eat instead of taking a shower, my normal morning routine.
\


Hometestingblog.testcountry.com
Testing blood sugar levels
Still a little dazed, I rummaged in the fridge, pulled out some cactus leaf, cactus pear, Italian squash, chayote squash and began chopping and pealing. I turned the gas on the cast Iron pan and the tea kettle, rinsed some chana dal, heated a pot of water and started simmering the dal. I spiced it with the rest of the basil leaves from my wilted plant that I got at Trader Joe's. I also added a good shake of turmeric, a lot more nutmeg than I planned and some asafoetida. This was an unusual mixture for me to use, a rather radical departure but I was in a daze as I said.

Wikimedia.org
Asafoetida plant
I then took some left over soup from the fridge, and threw that in with the veges, this had a paste like consistency due to my habit of constantly adding ingredients. It was based on an organic mushroom soup concentrate, Pacific brand, that I found in the discount bin at Ralph's. The soup had been a mix of the base with organic carrots, organic celery, a gala apple, a couple of turkey sausages, a tomatillo, a couple of jalapeno's, a little chopped yellow onion and a couple of pieces of garlic all chopped up together. This had already been on the stove twice and was about a week old, well seasoned.
Then I threw in a couple of strips of bacon, usually I get turkey bacon, but in this case I found some pork bacon that was on sale.
I used to get soy bacon but that got to be too expensive, I switched to turkey bacon, but that has gone up, so now I just look for what is on sale and isn't loaded with sodium.
After that came a chopped up tomatillo, some yellow onion and 3 or 4 pieces of garlic chopped up. I threw in a hand full of fresh rosemary spears and let it all simmer some more, all together over half an hour of cooking time.
While this was on low burner, I noticed some fruit flies hanging around a honey dew melon I had bought a month ago that never really ripened. I have noticed lately that there is a lot of fruit that is like this. It is picked early, and often instead of ripening it simply sits and then goes bad. This honeydew had a corner that had become moldy. So I cut it off, scraped out the seeds. and chopped up the rest of the insides but kept the outer casing to form a gourd. I this left the chopped up bits of melon, added the contents of one of those Paige Yogurt cups, the kind with the fruit on the side. I poured in the yogurt sans the cherry fruit concentrate, added a healthy amount of sage, really poured it in, added a little clove powder, and a generous couple of drops of vanilla concentrate. On top of this I placed a dozen or so green organic table grapes, a little salsa and a spoon of honey then added a shake of hot sauce and it was done.
While all this was going on I poured the hot water from the tea pot into a single serving melitta style filter filled with Don Francisco's fine grind expresso, which sat on my coffee cup in which I had placed a triangle of Ibarra Mexican style chocolate and the cherry jam from the yogurt container. Hand poured style of making coffee demands a fine grind that slows down the water percolation. If you use a regular grind, the water pours through and the coffee is weak, you have to pour it through the filter a couple of times and never tastes right. I always choose a fine grind and a bold or strong coffee to get maximum flavor.

Ranchionlinestore.com
Chana Dal
I replaced the water in the simmering chana dal as there was a lot of white foam. After that the liquid was clear. I should have soaked the dal in cold water for a while before cooking and as it was it was not done in time for breakfast, no matter, I will have it later with another couple of meals. As a habit I cook beans and broil potatoes on the weekend so that I will have them during the week. I also tend to make way more than I can eat on the weekends and save left overs for my week night meals. After a long day of work and school, I rarely have the energy to cook on weekday evenings.
The food on the frying pan was done so I threw in some olive oil, added a couple eggs, and threw a slice of Vogel Mixed Grain bread in the toaster. The bread had come out of the freezer, I buy it from the discount section at Ralph's where the normally expensive loafs can be bought for a dollar or so. I freeze it because I don't eat bread often, usually I have tortillas with my meals.
With every thing done I slices up a key lime, squeezed it on top of the fruit gourd, made a plate with the food from the frying pan, slicing the piece of toast in half after spreading some Philadelphia cream cheese with jalapeno on it, then placed the over medium eggs on the toast, added a squeeze of lime, some hot sauce, black pepper and a dash of sea salt on the eggs and the veges on the side of the dish, and I was ready to chow down.
The flavor was intense, acidic and a little hot, from the leftover soup most likely. It has a complexity and was balanced between soft and hard elements.Usually I add potato to cool out the flavor, or have some beans and a grain like rice, but in this case it was the veges that stood alone and once my mental expectations had adjusted to the flavor messages from my taste buds, I enjoyed the dish. It was not too dry or wet, hard or soft, in fact it was tasty. I had no more cilantro so that staple was missing from my plate. The egg on toast was a little more generic than I had expected, when I added some of the bacon it became more flavorful.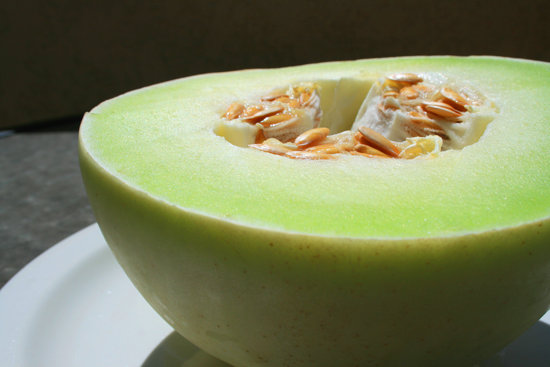 media4.onsugar.com
Honeydew melon
As for my gourd of fruit and liquified yogurt, it was very tangy. The clove, sage and vanilla flavor really stood out front and center. The yogurt made it taste like one of those savory Indian yogurt dishes. Most of the fruit sweetness came from the grapes as the honeydew was rather bland and woody, tasting more like chayote than honeydew. But it was a pleasant spiciness, not overwhelming. I deliberately did not add too much honey as I did not want the sweetness to drown out the spiciness. The sage added a nice savory flavor that made the whole dish an exotic and interesting combination for the palate.

smartkichen.com
Chayote squash
Some source info. Since I live in Southern California, I am blessed with access to abundant fresh food, and unlike Florida, the state doesn't take the hell out of groceries. Chayote, tomatillo, cactus leaf and cactus pear can all be got cheap from Mexican markets, or the discount stores like Food 4 Less. Ralph's has the organic produce, day old stuff, and especially day old organic meats, I always look for deals on that sort of stuff there. Indian food like asafoetida and dal can be found at some regular markets but most likely you will have to go to an Asian or Indian market. I found the chana dal on the street outside of a church where some kind soul left a bag full of Indian and Middle Eastern grains and legumes. I am not one to look a gift horse in the mouth, so I grabbed some of the items. My daily walks often are productive like that.