Sunday, November 24th, 2013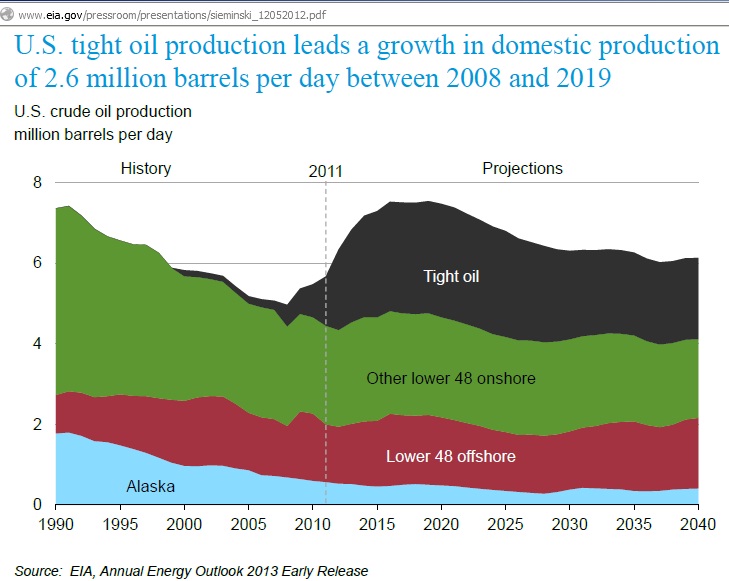 http://crudeoilpeak.info/us-peak
Recent US Oil production projections (Tight oil is Shale Oil)
The USA enjoys a temporary energy independence with regards to the use of fossil fuels, soon to be greatly aided by the new fuel standards in automobiles which more than anything else will cut dependence on foreign oil. This gives the Obama administration some wiggle room regarding how it acts in the Middle East. Persian Gulf oil is no longer so predominant, in fact as Nial Ferguson states in his book Colossus, it was really countering Soviet influence in the Middle East that drove US policy since the end of World War 2, not over dependence on Middle Eastern Oil. In the 1950's the US was largely energy self sufficient.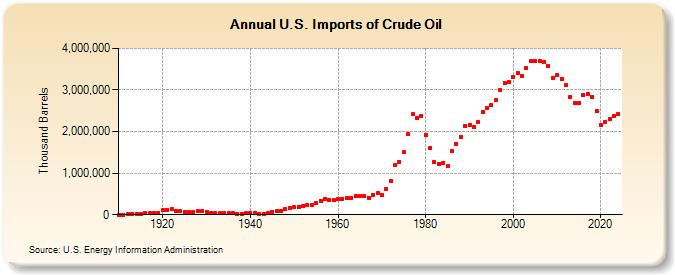 www.eia.gov
Crude Oil Imports by thousands of barrels
The intervention in places like Iran in 1953 was driven more by British concerns and a desire to block suspected Soviet penetration than any real need to protect oil assets. The US recognition of Israel by Truman was cautioned against by the State Department (Ferguson 109), which surely pissed off oil interests in Saudi Arabia, but since oil from the Middle East was such an insignificant portion of US usage, protecting it wasn't a priority based in need. What was a concern was that the Soviet Union recognized Israel immediately and there was a strong socialist tendency in early Israel who had a strong anti-British bias among the faction who had fought to free Israel from British rule (Fromkin 6-8).


blogs.shell.com
Future oil import shift in selected nations
The US recently in Syria faced off with the Russians, who have a naval refueling station in Syria and interests in preserving the Assad regime, but instead of confrontation there was compromise and the Syrians gave up their chemical weapons in a face saving deal for the Obama administration which had found itself in a tight position with Obama's line in the sand statements regarding use of chemical weapons. This shows how far the world has come since the cold war and offers an opportunity for the US to disengage from the Middle East. With NATO lapping up on the very borders of the Russian Homeland, they realize that room to move as once was the case in the days of the Soviet Empire has been much constrained. Therefore the US has even less reason to defend the Middle East from Russian incursion. This policy of Russian containment goes back to the old British nineteenth century concerns over Ottoman weakness and the protection of British concerns in Egypt and the 'golden goose' in its Indian colony. There is little reason for the US to be invested there other than treaty commitments to Israel, Saudi Arabia, Egypt and its NATO allies Turkey and Greece.
Middle East
With the recent snubbing of the US by the Saudi's over it's refusal of a UN Security Council position, the support of the Coup in Egypt over US opposition, and the secret arrangements between Israel, the Saudi's and now the military regime in Egypt, there is little incentive for the US to hold back on negotiations with Iran. What may emerge is a realignment of forces with the US becoming friendly again with Iran. Securing the Persian Gulf by treaty with the Iranians will allow the US to focus on east Asia and the Chinese perceived threat. With a little real politic perhaps the Saudi's and Israel might be able to resolve the Palestinian problem. But that is doubtful since the Saudi's do not want a democratic secular Palestine, they would prefer using the Palestinians as a chess piece in their own game of negotiating between regional forces. But since the Chinese, Japanese, India and Europeans have more dependence on Middle Eastern Oil than the US, it would behoove them to step up and take a more active role in protecting the regional sea lanes than the USA which then can pull back to a more traditional role of preserving hemispheric hegemony and trade routes to East Asia and Europe. The US has only been engaged world wide since it replaced the British naval influence as protector of the sea lanes after the end of World War 2. This realignment should not be seen as American weakness but a return to a more balanced position for the US regarding its place in the world. Having overextended ourselves for so long militarily, for some seventy years, it is about time focus is placed on reducing military footprint and working on domestic infrastructure. This may not please the military industrial complex but retooling for civilian purposes has been delayed long enough.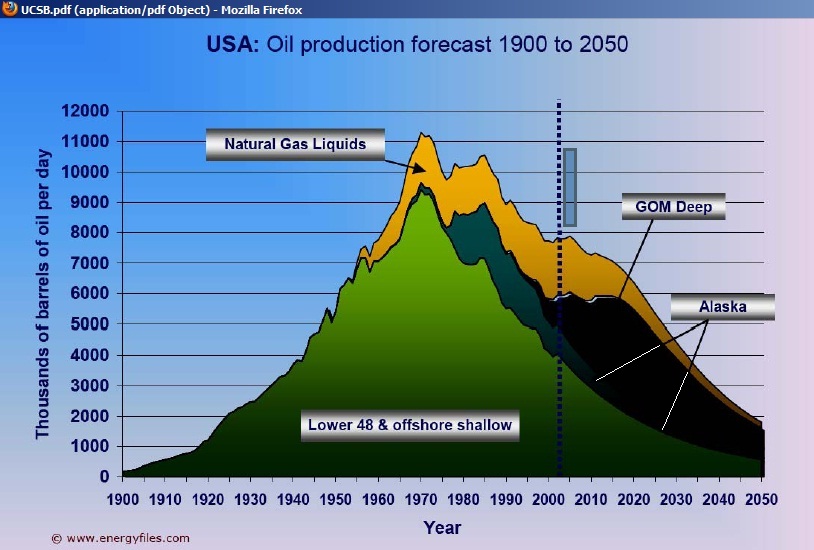 http://crudeoilpeak.info/us-peak
The temporary bump in US oil production
This temporary position of an increase in domestic production must be seen for what it is, temporary, what is needed long term is a reduction on dependence on oil and fossil fuel. Earnest development of solar, wind and other alternative energy sources must continue and not be suppressed by a temporary dip in oil prices. Any savings in cutting back on military commitments must be balanced with an increased commitment to energy alternatives and a sharp decrease in the use of fossil fuels in automobiles in particular, whether this means an increased use of mass transit or not depends more on technology than policy as the US does not have the population density in most areas to justify expensive mass transit systems (See my Bus vs Rail in Los Angeles post for some info). World Oil reserves are diminishing and that is a further reason why countries like Iran want to move into nuclear power, although nuclear has security, disposal and environmental problems that the recent Fukushima disaster indicates. Conservation is probably still the best means of controlling energy dependency. As the chart below shows the largest use of energy is in powering, heating and lighting buildings. Switching to solar, and more energy efficiency in appliances, insulation and lighting can make a big difference along with auto mileage efficiency, more efficient transmission lines etc.

www.northernplains.org
US Energy consumption by sector
The world is running out of readily accessible oil which is probably what will keep the planet from excessive climate change more than any technical fix that is derived from conferences like the world energy summit going on in Warsaw. Countries will simply be forced by economic and resource pressure since there does not seem to be the political will to deal with the situation.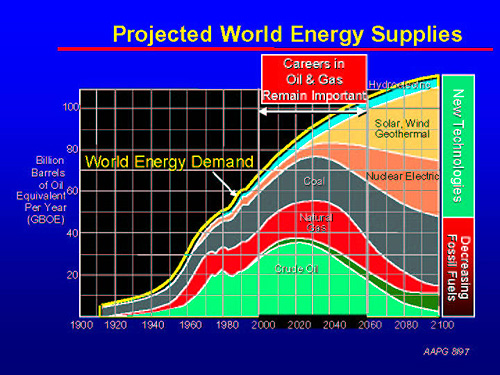 http://www.energy-visions.com/tradition.html
Projection of World Energy sources by next century.
Note that coal is a major source of energy in predictions, taking up most of the slack as other fossil fuels diminish. Natural gas, promoted as being clean, does not seem to have a long run ahead. Coal being a very dirty energy source will have to have very strong regulation and environmental pollution controls, especially in countries like the USA and China where use is expected to be high. Otherwise there will be continuous problems with global CO2 emissions.

Getty Images
"Smog: China has access to vast swathes of coal, which is cheaper for it to use than other fossil fuels. Pictured, Wuda Coal Field, in Wu Hai, Inner Mongolia, China, where coal is mined, then trucked nearby to the power stations and factories in the region" (Collis, Return of King Coal)
This is a big deal and it will be increasing as coal use driven largely by China will overtake oil as the predominant fuel during this decade.
'China's demand for coal will almost single-handedly propel the growth of coal as the dominant global fuel,' said William Durbin, president of global markets at Woodmac. 'Unlike alternatives, it is plentiful and affordable.'

China - already the top consumer - will drive two-thirds of the growth in global coal use this decade. Half of China's power generation capacity to be built between 2012 and 2020 will be coal-fired, said Woodmac.

China has no alternative to coal, with its domestic gas output limited, and liquefied natural gas (LNG) imports more costly than coal, Durbin said.
Read more: http://www.dailymail.co.uk/news/article-2458631/Coal-surpass-oil-key-fuel-global-economy-2020-despite-government-efforts-reduce-carbon-emissions.html#ixzz2lbaiEAFR
With the Climate conference ended in Warsaw with the emissions standards kicked down the road to Paris 2015, and an emerging nations bloc opposed to world wide standards being imposed on developing nations led by China and India the US came out as being almost looking good according to Greenpeace blogger Kyle Ash.
http://greenpeaceblogs.org/2013/11/23/warsaw-climate-talks-so-bad-us-looked-good/

http://www.paulchefurka.ca/WEAP2/Energy_Intensity_GDP_2050.html
Chinese Energy source predictions
According to the Guardian article "Warsaw climate talks set 2015 target for plans to curb emissions" by Fiona Harvey on the agreement reached in Warsaw most of the work remains to be done.
At the insistence of a small group of developing countries, they will take the form of "contributions" rather than the stronger "commitments" that most other countries wanted.

These were the self-styled "like-minded developing countries", a group that comprises several oil-rich nations, including Venezuela, Saudi Arabia, Bolivia and Malaysia. Several have large coal deposits and are heavily dependent on fossil fuels, such as China and India, and some countries with strong links to some of the others, including Cuba, Nicaragua, Ecuador and Thailand.

The "like-minded developing countries" group takes the view that the strict separation of nations into "developed" and "developing", which was set at the first international climate talks in 1992, and enshrined in the 1997 Kyoto protocol – in which developed countries were obliged to cut emissions but developing countries had no obligations – must remain as the bedrock of any future agreement. They argue that the "historical responsibilities" for climate change lie with the first nations to industrialize.

But all countries admitted that most of the preparation work for Paris still remains to be done. Politically, the battle between the like-minded group – which is separate from, but claims to lie within, the broader G77 group of the majority of developing nations – and the US and the EU will be key. For both sides, gaining support from the rest of the unaligned developing nations – some of which are highly vulnerable to climate change and are desperate for a deal, but others who are courting economic investment from China – will be crucial.

The fragile truce reached after the marathon talks in Warsaw may not even last as long as the delegates' flights home.
http://www.theguardian.com/environment/2013/nov/24/warsaw-climate-talks-greenhouse-gas-emissions

http://www.nbcnews.com/id/34115253
"Poland has long relied on coal for its energy, using mostly antiquated equipment like this extractor at the Adamow" (NBC News).
Certainly it was strange that a country that is sponsoring a climate control conference at the same time sponsors a coal industry conference, indicating that Poland is not serious about climate emissions control eliciting the protests by environmentalists that it did.
In summation the US has an opportunity to draw down in the Middle East and let regional players who have a stronger vested interest step up, perhaps under UN guidance. The US is primarily concerned with the Chinese and east Asian issues and will focus in that direction in the immediate future. Chinese and Indian energy use, especially dependence on coal will make climate change a continued issue as their blocking of reforms in Warsaw and energy use predictions indicate. This will have dire consequences for states like the Philippines and Indonesia who are likely to be heavily impacted by ocean levels rising. Unless the Chinese, India and others take a stronger stance on pollution and the US and the EU expend more on promoting environmentally sustainable energy technology, the problems will simply get worse. Conservation at home, the tapping of short term shale oil and natural gas supplies will give the USA a breather in which to transition to renewable energy especially if serious energy conservation measures are put in place. With a low population and abundant resources the US should be in a good position to be a climate change leader if it's policy makers can get away from a focus on international militarization to one of domestic energy independence.
Works Cited
Collis, Helen. "The Return of King Coal as the World's Dominant Fuel." Daily Mail. 14 Oct. 2013. Web. 24 Nov. 2013.
Ferguson, Niall. Colossus The Rise and Fall of the American Empire. London: Penguin Books. 2004. Print
Fromkin, David. "The Strategy of Terrorism." Foreign Affairs July 1975. Rpt. The U.S. vs. al Qaeda A History of the War on Terror. Ed. Gideon Rose and Johnathan Tepperman. New York: Council on Foreign Relations. 2011. Print.
Harvey, Fiona. "Warsaw climate talks set 2015 target for plans to curb emissions." Guardian. 24 Nov. 2013. Web. 24 Nov. 2013.